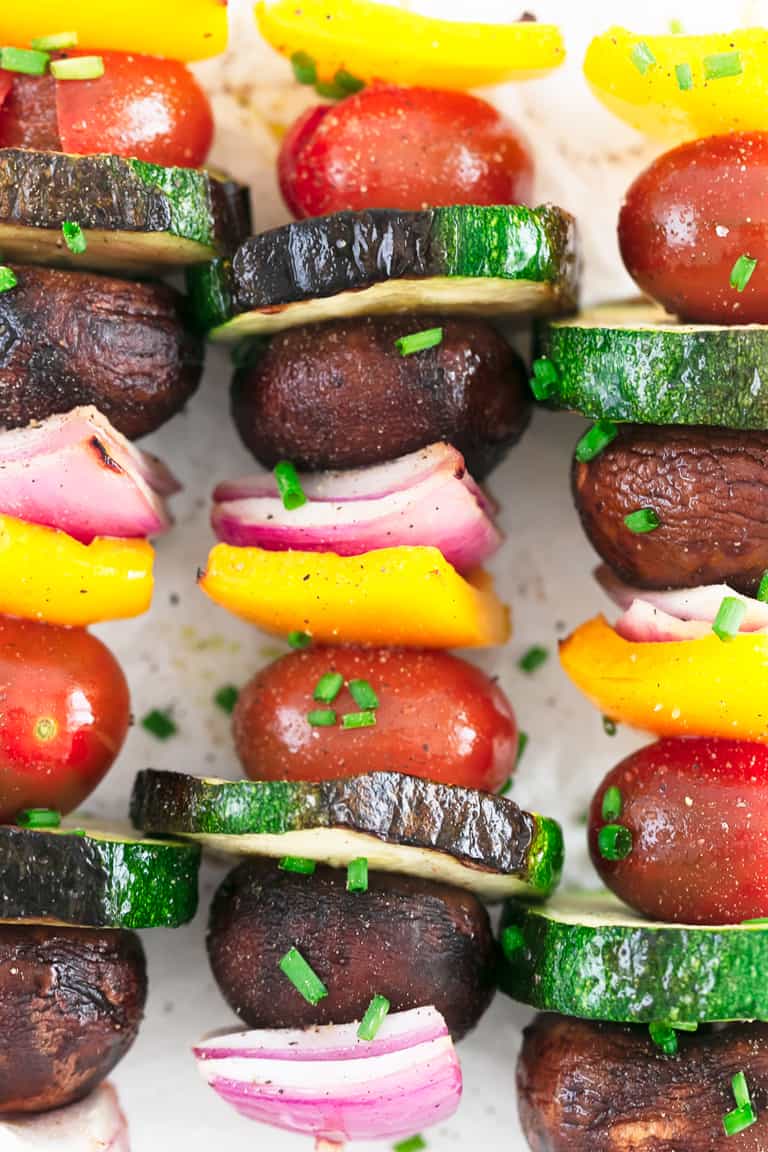 We continue with more grilled recipes, perfect for summer barbecues, although in the case of these skewers they can be prepared at any time of the year and are also very tasty on the grill or in a pan.
1

cebolla morada

1

calabacín

1

pimiento amarillo

16

champiñones, descarta el tallo o pie

16

tomates cherry
Aceite de oliva virgen extra al gusto (opcional)
Sal al gusto
Pimienta negra molida al gusto
Cebollino picado para decorar (opcional)
Instructions
Wash and chop vegetables, ideally is that the pieces are more or less the same size so that all the vegetables are cooked equally. The amount is indicative, as it can vary depending on the size of the vegetables and how you cut them.
To assemble the skewers, stick the vegetables in the order what you want We put them in this order: red onion, mushroom, zucchini, cherry tomato and yellow pepper and put two of each per skewer.
Cook the vegetables in a < a href="https://amzn.to/2tRwlyb" target="_blank" rel="nofollow noopener">grill, grill or pan with a little extra virgin olive oil (optional) for about 10 or 15 minutes on each side or until golden brown. Remove from the heat, add salt and pepper to taste, garnish with some chopped chives (optional), and serve immediately.
Skewers are best fresh. You can prepare them and store them uncooked in the fridge in an airtight container for about 3-4 days or already cooked, also in an airtight container in the fridge for about 2-3 days.
Notes
Other vegetables, spices, or herbs may be used.
Nutrition information is calculated using 1/4 teaspoon of salt and 1/8 teaspoon of ground black pepper, so it will vary if you use more or less salt and pepper.