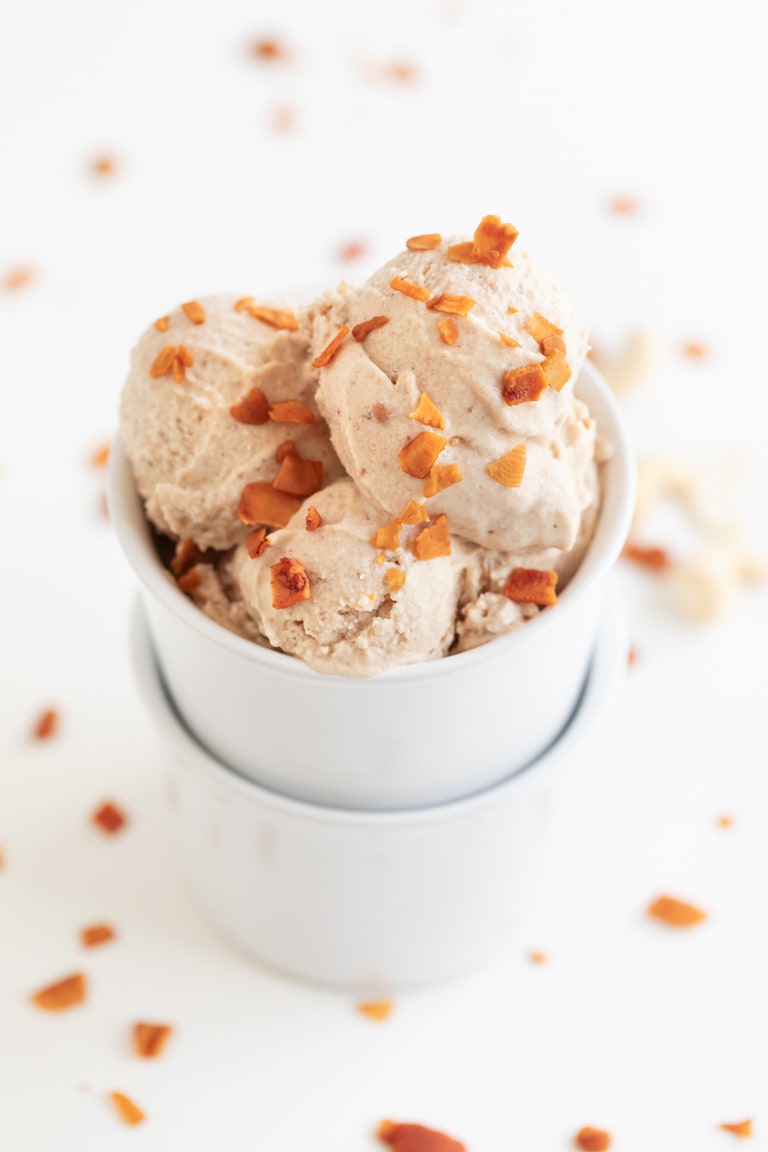 Who doesn't like ice cream? It's refreshing, creamy and delicious. For everyday life I love banana ice-cream because it is very healthy and easy to prepare, you can also add all kinds of ingredients to make different flavors.
2

tazas de anacardos crudos y sin sal (

300 g

)

1

taza de agua (

250

ml)

1

lata de leche de coco (400 ml ó

15 oz

)

8

dátiles Medjool, sin hueso

1

vaina de semillas de vainilla

1

cucharadita de extracto de vainilla
Instructions
Soak cashews for at least 4 hours.
Split the vanilla pod lengthwise with a knife and scrape out the inside to get the seeds and discard the pod (you can use it to make homemade-vanilla-extract).
Pour all the ingredients into a blender and beat until well combined. Store the mixture in an airtight container in the fridge to chill for at least 4 hours, preferably overnight.
I used a icebox and followed the manufacturer's instructions (see notes if you don't have an icebox). Basically what I did was leave the container from the fridge in the freezer the night before and the next day pour the mixture little by little with the machine running. I then left her making the ice cream for about 45 minutes. Once the ice cream is ready, it can be eaten directly (I served it with coconut chips on top), although the ideal is to keep it in the freezer for another 2 hours so that it is firmer.
Ice cream can be stored in an airtight container in the freezer for 1-2 weeks. Ideally, take it out of the freezer 5 or 10 minutes before serving to make it creamier.
Notes
I have not tried the recipe with other types of nuts, although I do not think it will be the same.
I have not prepared it with another type of < a href="https://danzadefogones.com/9-vegetable-milk-recipes/" target="_blank" rel="nofollow noopener">vegetable milk, but I think it could be good, although not so creamy.
I've only made this ice cream with an ice cream maker. I suppose it will work if you don't have one, although it won't be as creamy. You have to put the mixture in an airtight container in the freezer for 7 or 8 hours depending on the texture you want to achieve. So that crystals do not come out, it must be stirred every half hour for at least the first 2 or 3 hours.
With the code DANZA-DE-FOGONES-5 you will get a 5% discount on any product on the websiteVitality 4 Life.