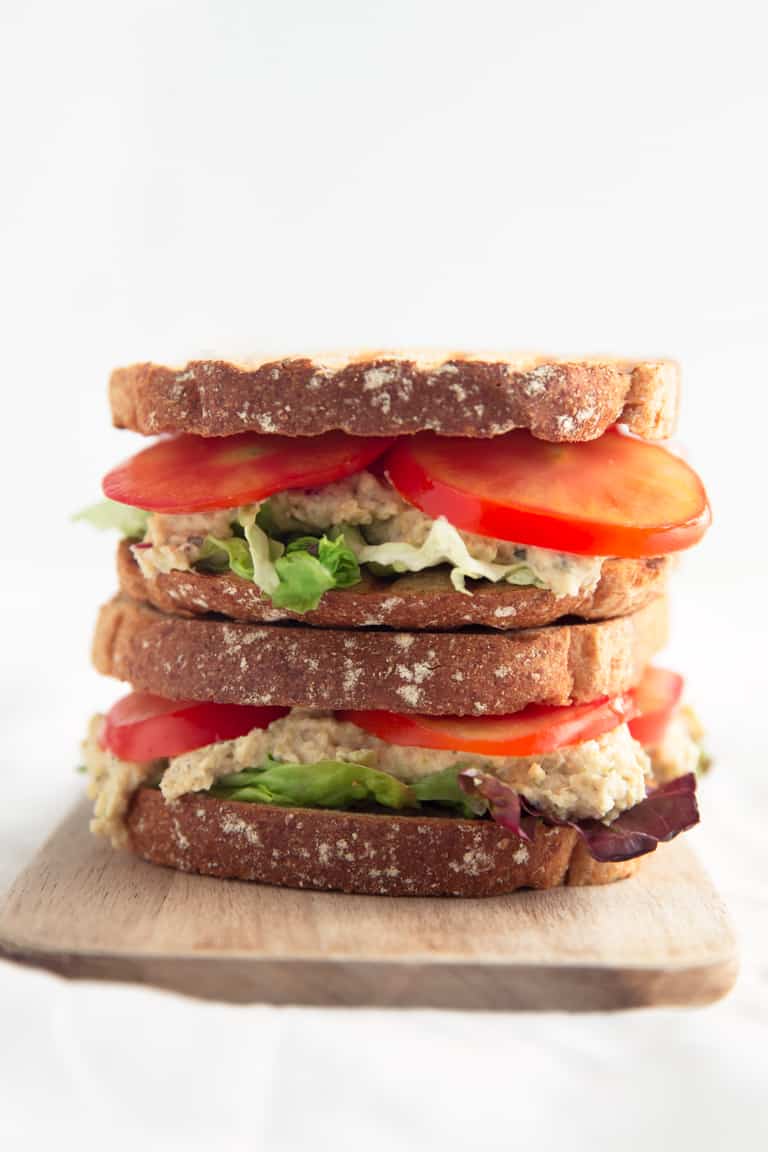 We have changed the design of the blog and we have had some technical problems, so this recipe was deleted and we had to publish it again. Sorry for the inconvenience!
Para el atún:
200 g

de garbanzos cocinados o de bote (

7 oz

)

4

cucharadas de tahini

2

cucharadas de zumo de limón

2

cucharadas de mostaza

1

cucharada de copos de alga nori (opcional)

1/4

de cebolla morada troceada

4

pepinillos en vinagre (

30 g

ó

1 oz

)

1/2

ramita de apio sin las hojas, troceada

1/4

de cucharadita de sal

1/8

de cucharadita de pimienta negra molida
Para el sandwich:
8

rebanadas de pan integral
Hojas de lechuga

2

tomates, cortados en rodajas
Instructions
Put all the tuna ingredients in a food processor or blender and beat until you get a paste like the one you can see in the photo.
Toast the bread in a pan, toaster or grill.
We place lettuce leaves to taste , the vegan tuna and tomato slices on four of the eight slices of bread and cover with the other four.
The ideal is to have the sandwich freshly made, although you can Take it to work or school without problems. If you are not going to eat it right away, but you are not going to take it away from home either, it is best to store the vegan tuna separately in an airtight container in the fridge for about 3 or 4 days and assemble the sandwich right away.< /li>
Notes
Instead of tahini, you can use vegan mayonnaise , vegan aioli without oil or any other creamy sauce that you like.

To make the nori seaweed flakes, we simply beat nori seaweed in the blender until that turns to dust You can use other dried algae or even buy the powder already made.

The onion does not have to be purple, you can use spring onion or white onion.

If you can't eat gluten, use the bread you like best or you can even make the recipe with corn tortillas.

Add your favorite vegetables.