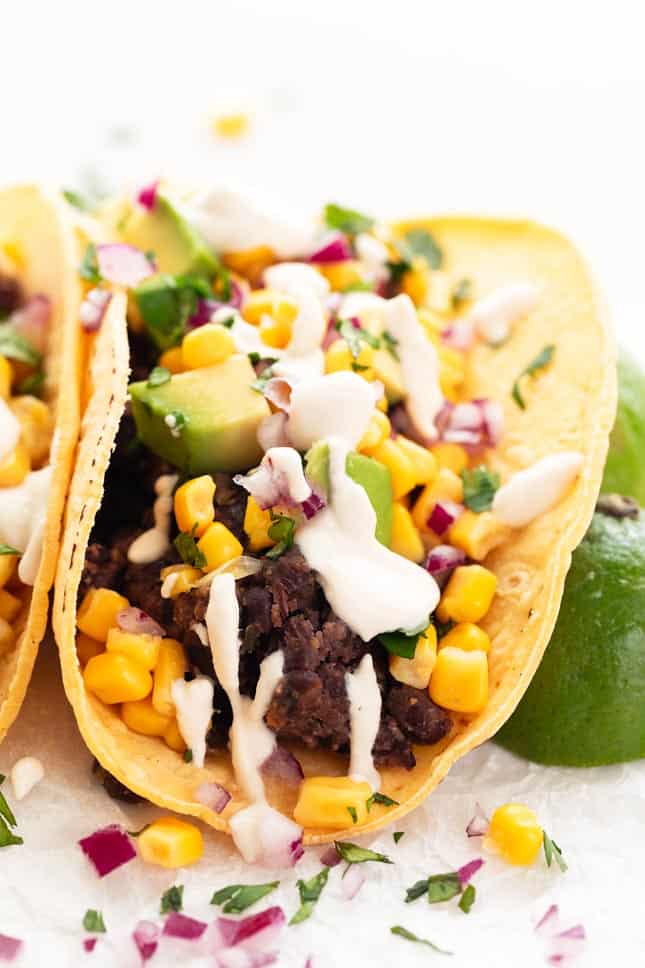 Mexican food is one of the most popular in the world and it is for a reason: it is to die for! These tacos are a vegan version that includes some of my favorite ingredients.
2

cucharadas de aceite de oliva virgen extra (opcional)

3

tazas de alubias negras cocinadas o de bote (

500 g

)

1

cucharada de comino molido

1

cucharada de orégano seco

1/2

cucharadita de ajo en polvo

1/4

–

1/2

de cucharadita de sal, ver notas

1/4

cucharadita de pimienta negra molida
Una pizca de cayena molida

6

tortillas pequeñas de maíz o de trigo

1/2

taza de maíz (

70 g

), cocinado o de bote

1

aguacate, en dados

2

–

4

cucharadas de cebolla morada, troceada
Zumo de lima al gusto (opcional)
Crema agria vegana, la receta completa (opcional)

2

cucharadas de cilantro fresco, troceado
Instructions
Heat the oil in a pan and add the beans together with the spices (cumin, oregano, garlic powder, salt, pepper and cayenne), stir and cook over medium-high heat for about 3-5 minutes or until hot, stirring occasionally. Booking. If you don't want to use oil, you can substitute it with water or vegetable broth.
You can heat the tortillas according to the instructions on the package or eat them cold, as you prefer. I personally like to heat them in a pan.
To assemble the tacos, take a tortilla and fill it first with the beans, then add the corn, avocado, onion , a splash of lime juice, sour cream to taste, and chopped fresh cilantro on top. Repeat with the rest of the tortillas.
The ideal is to take the tacos freshly made, so if you are not going to eat them all it is better to store the ingredients separately in the fridge. The beans last about 4-5 days in the fridge in an airtight container.
Notes
The amount of salt is personal. If you are using canned beans or if you have cooked the beans with salt you may need to add nothing or 1/4 teaspoon. Since my beans didn't have any salt, I added 1/2 teaspoon.
To reduce the amount of sodium, wash canned goods well and/or add less salt.
You can use other types of beans or legumes.
Depending on the size of your tortillas, you will get more or less tacos.
Add the vegetables and herbs you prefer.

< li>If you don't want to use sour cream, you can mash the avocado, use guacamole or any other sauce you have on hand. You can also not add sauce, the tacos are still very tasty.

The nutritional information has been calculated with 1/4 teaspoon of salt and 4 tablespoons of onion. Also, it doesn't include the sour cream.