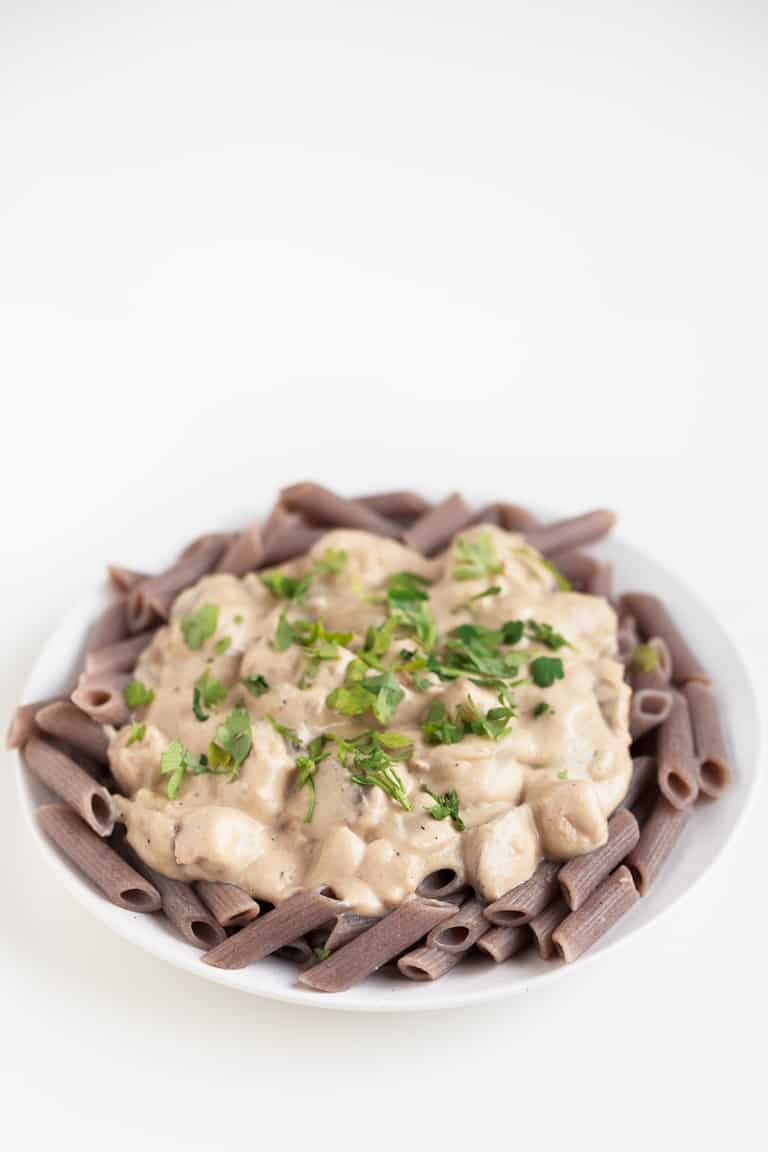 It is very likely that I will make this recipe as a main course for some of the Christmas meals, probably for Christmas Eve or New Year's Eve, although I am not sure yet. What I do know is that it has become one of my favorite dishes because the combination of meat + pasta + cream has always been my favourite.
1

taza de anacardos crudos y sin sal (

150 g

)

55 g

de soja texturizada gruesa (

2 oz

)

2

ó 3 cucharadas de tamari o salsa de soja

1/2

taza de leche vegetal (

125

ml), nosotros usamos leche de soja

1

y 1/2 taza de caldo de verduras (

375

ml)

1/2

cebolla troceada

200 g

de champiñones laminados (

7

onzas)

2

cucharadas de harina, nosotros usamos harina de arroz integral

1/4

cucharadita de pimienta negra molida
Perejil fresco picado
Instructions
Soak cashews in hot water for an hour. Strain and reserve.
Soak the textured soybeans in a bowl with plenty of hot water (we add 2 cups or 500 ml) and a tablespoon of tamari or soy sauce soy (optional) for at least 15 minutes. Strain and set aside.
Put the cashews into a blender along with the non-dairy milk and vegetable broth and blend until well combined. Reserve.
Sauté the onion and mushrooms in a pot with a little vegetable broth, water or oil until golden brown.
Add the flour, tamari or soy sauce, pepper, textured soy and cashew sauce. Stir and cook for about 10 to 15 minutes over medium-high heat, stirring occasionally. If the sauce is too thick add more broth and if it is too runny add more flour.
Serve with pasta or rice and a little chopped fresh parsley on top. We use buckwheat pasta.
You can store the Vegan Stroganoff in the fridge in an airtight container for about 5 days.
div>
Notes
Textured soy can be substituted with tofu, tempeh, seitan or more mushrooms.
You can use salt to taste instead of tamari or sauce of soybeans.
Instead of milk and vegetable broth, you can use water, although the sauce will have less flavor.
Add your favorite spices, herbs and vegetables.

< /ul>