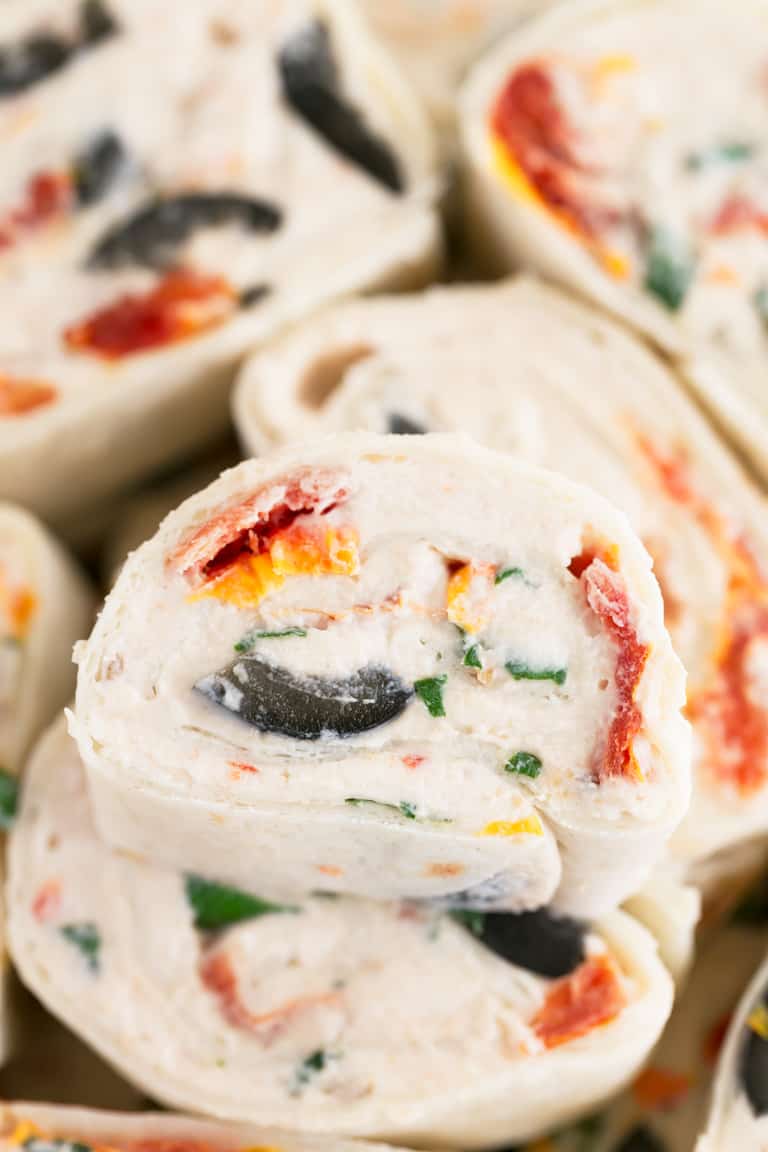 Spirals or pinwheels are very popular snacks in other countries such as the United States and are prepared especially for parties, birthdays and other celebrations.
1/2

taza de tomates secos (

40 g

ó 16 tomates)

1/2

taza de aceitunas negras sin hueso (

65 g

)

20

hojas de albahaca fresca

225 g

de queso crema vegano (

8 oz

), ver notas

3

tortillas grandes
Instructions
To rehydrate sun-dried tomatoes leave them on hot water for at least 20 minutes, but you can also leave them overnight, or use ready-to-use dried tomatoes in olive oil.
Strain the tomatoes dry and chop them. Also chop the olives and the basil and all in a bowl together with the cream cheese. Mix with the help of a fork or spoon until all the ingredients are well integrated.
Spread the mixture on the tortillas and roll up to form three rolls.
You can chop the rolls directly, but I like to leave them in the fridge covered for at least 2 hours to let the flavors set and also because they are easier to chop that way. We cut each roll into 12, so in the end we had 36 spirals or pinwheels. The ends are a bit ugly, that's normal.
Serve immediately or refrigerate in an airtight container for 2-3 days.
Notes
We buy a very basic cream cheese (you can find it in health food stores and in some supermarkets), but if you want you can also make it following our recipe from cream of cheese.
Ideally, leave it at room temperature for a while the cream cheese so that it is not so hard and it is easier to integrate with the rest of the ingredients.
Instead of black olives and basil you can use any type of olive, herb (fresh or dried) or even other ingredients.
If you don't have large tortillas (ours were 25 cm or 10 inches), you can use smaller tortillas, although in that case you will have to use more.
Yes you can't have gluten, use corn tortillas. Since they are smaller, you will have to use more.