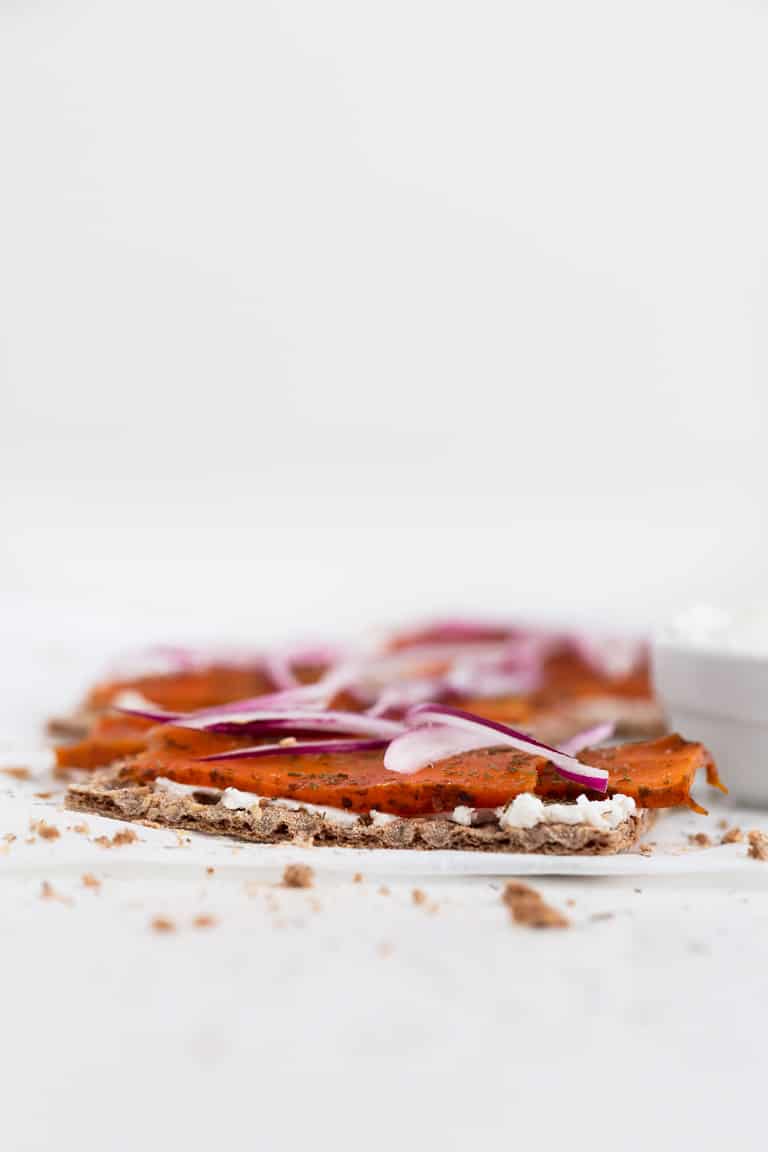 In my house we have always eaten a lot of fish and that is why when I became a vegetarian I missed it more than meat. Smoked salmon was one of my favorites and I loved having it with cream cheese and bread, so since we didn't have any recipe for fish in a vegetable version, we decided to start with something simple. You can't imagine how good it is and what It looks great.
3

zanahorias (225 g ó 1/2 libra)

2

hojas de alga nori

1

taza de agua caliente (

250

ml)

2

cucharadas de tamari o salsa de soja

1

cucharada de sirope de arce o agave

1

cucharada de vinagre de manzana

1

cucharadita de pimentón dulce

1

cucharadita de ajo en polvo

1/8

cucharadita de pimienta negra molida
Sal al gusto
Instructions
Preheat the oven to 180ºC or 350ºF.
Wash the carrots and sprinkle with salt to taste (peeling is not necessary). I like to leave the carrots wet so that the salt adheres better. Bake them on a tray lined with parchment paper for 40 minutes.
While you can make the dressing. Add chopped nori seaweed to a blender along with the rest of the ingredients (water, tamari, syrup, vinegar, paprika, garlic powder and pepper) and blend until well combined.
When the carrots are done, let them cool a bit so you don't burn your fingers, and chop them with a knife, peeler, or mandolin.
Add the chopped carrot in a bowl, add salt to taste and massage them well with your hands so that the salt is impregnated.
Leave the carrots to marinate in an airtight container along with the dressing in the fridge for at least 24 hours.
We serve the vegan smoked salmon with toast, vegan cream cheese, dried dill, and chopped red onion.
You can store the salmon in the fridge for about 5 days.
div>
Notes
The nori seaweed can be substituted with other seaweed or can also be eliminated (although it will not taste like the sea).
Use any sweetener or vinegar (You can also use lemon juice).
The salmon is very tasty as it is, but if you want an even more successful flavor you can add a drizzle of extra virgin olive oil on top when you serve it.< /li>