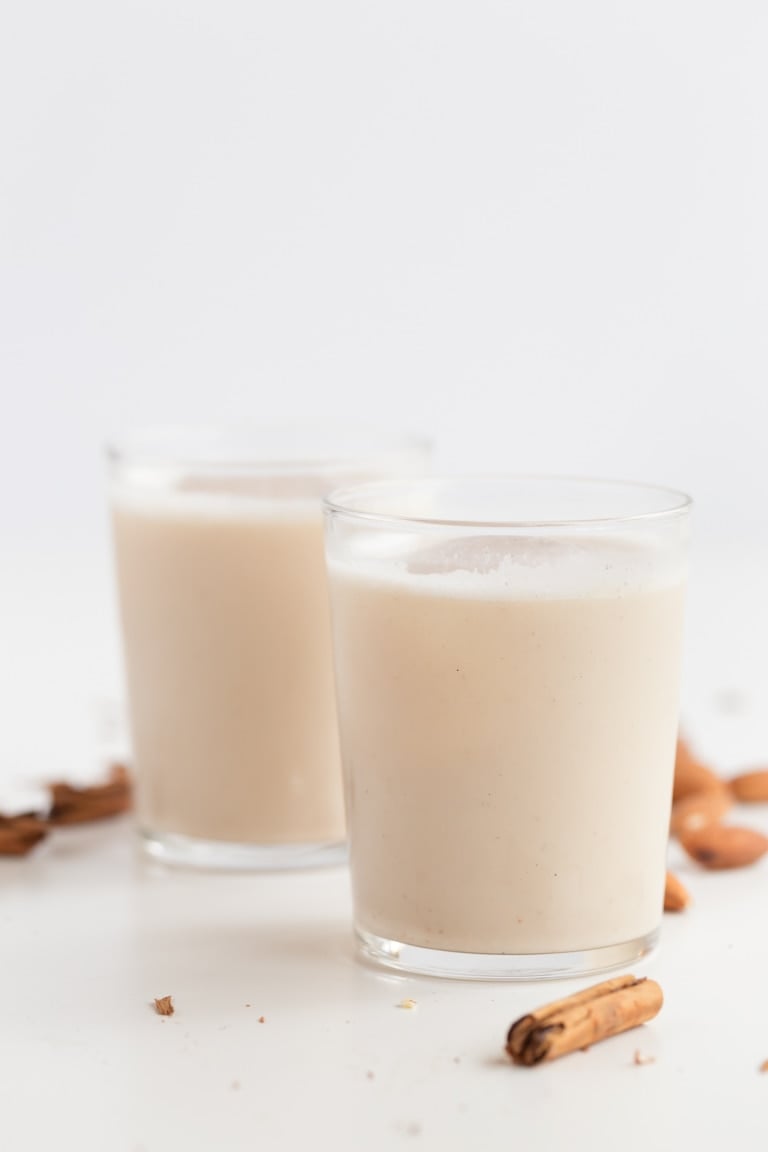 Rice horchata is a very popular drink in Mexico and Central America, although I have also seen it on many blogs in the United States, where it is also called Mexican horchata.
1/2

taza de arroz blanco sin cocinar (

100 g

)

1/2

taza de almendras crudas y sin sal (

80 g

)

1

rama de canela pequeña ó 1/2 grande

4

tazas de agua del tiempo (

1

litro)

4

dátiles Medjool ó 8 Deglet Nour, sin hueso

1/2

rama de vainilla (opcional)
Instructions
Add the rice, almonds, cinnamon and water in a blender and blend until well combined.
Store mixture in the fridge overnight in an airtight container.
The next day, strain the mixture using a non-dairy bag, napkin or piece of cloth, or even a very fine strainer. You can discard the pulp or add it to your recipes (smoothies, soups, truffles , etc.).
Split the vanilla pod lengthwise with a knife and scrape out the inside. Discard the outside (you can use it to make vanilla extract).
Pour the liquid back into the blender along with the dates and vanilla seeds and blend until well combined. Taste the horchata to see if it's sweet enough for you, if not, add more dates.
You can serve the horchata directly as is, with a little ice, or leave it in the fridge until very cold, you choose. Store leftovers in an airtight container in the fridge for 3-5 days.
Notes
I have not calculated the nutritional information of this recipe because when discarding the pulp it is not easy to know the exact amount of rice, almonds and cinnamon used.

< li>The preparation time does not include the hours that the horchata must rest in the fridge.

We use round grain white rice, but any type of rice can be used.
The cinnamon stick can be replaced with 1/4-1/2 teaspoon of ground cinnamon, although the horchata has a more uniform texture if cinnamon sticks are used.
Instead of dates you can use any natural sweetener to taste.
You can also substitute the vanilla bean for 1/2-1 teaspoon of excerpt from vanilla.