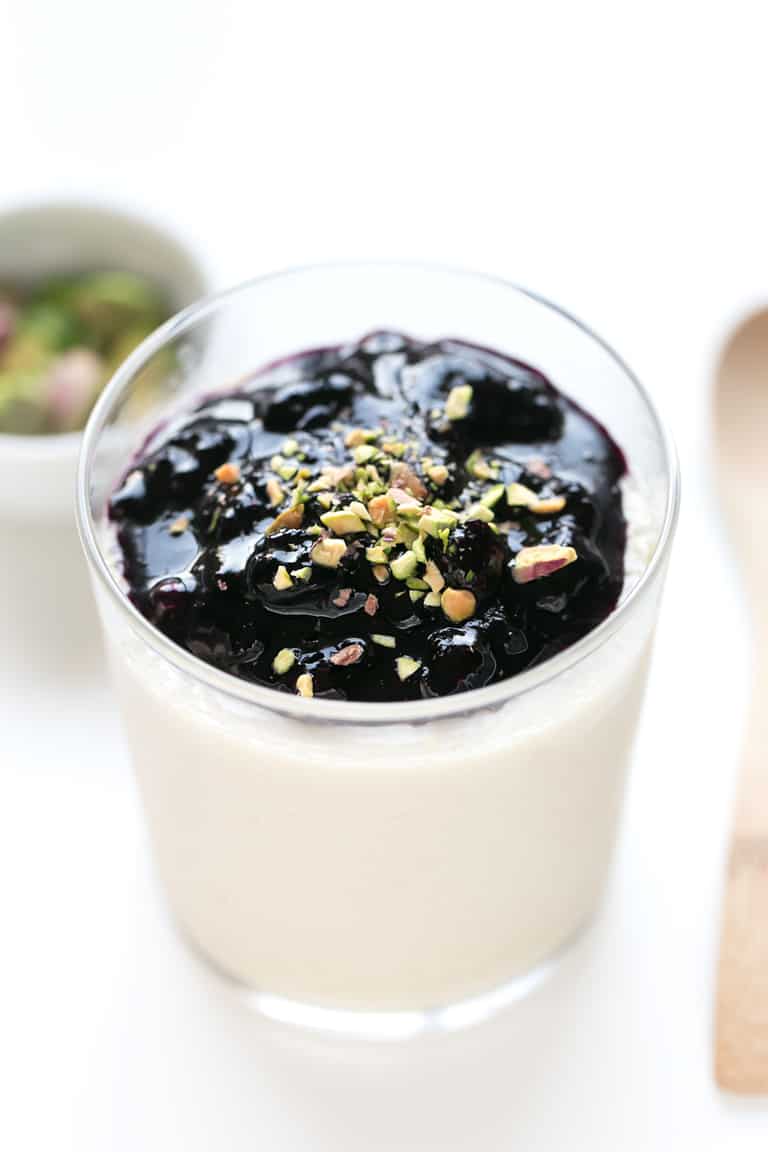 Panna cotta is an Italian dessert that is made with cream, sugar and gelatin. Since I became vegan I have made several attempts at vegan panna cotta and none had convinced me, until I discovered this recipe.
4

tazas de leche vegetal (

1

litro), nosotros usamos leche de soja

1/4

taza de sirope de arce o agave (

80 g

)

2

cucharaditas de agar agar en polvo (

4 g

)

2

tiras de piel de limón (opcional)

1

rama de vainilla (opcional)
Para la compota de arándanos:
1

taza de arándanos congelados (

230 g

)

2

cucharadas de panela, azúcar moreno o de coco

1

cucharada de agua
Instructions
Add the milk, syrup and agar agar in a saucepan or pot and stir with the help of a whisk or a spoon until they are perfectly integrated.
Open the vanilla pod lengthwise, scrape out the seeds with help of a knife and put both the pod and the seeds, in addition to the 2 strips of lemon peel in the saucepan or pot. Stir again.
Cook over high heat until milk comes to a boil, lower heat to medium-high and cook for a couple of minutes stirring constantly. li>
Remove from the heat and strain the mixture, discarding the vanilla bean and lemon peel.
Distribute the panna cotta between 4 individual containers and let cool at room temperature for a while and then in the fridge for at least an hour.
To make the compote add all the ingredients in a saucepan or pot and cook over medium-high heat stirring occasionally, 5 to 10 minutes or until mixture thickens. Pour the compote into a bowl and let cool to room temperature.
Serve the panna cotta with some compote and some chopped pistachios (optional).
You can store the leftovers in the fridge covered for 4-5 days.
Notes
You can use any sweetener for both the panna cotta and the compote.
If you don't want to complicate your life, you can use any packaged jam.< /li>