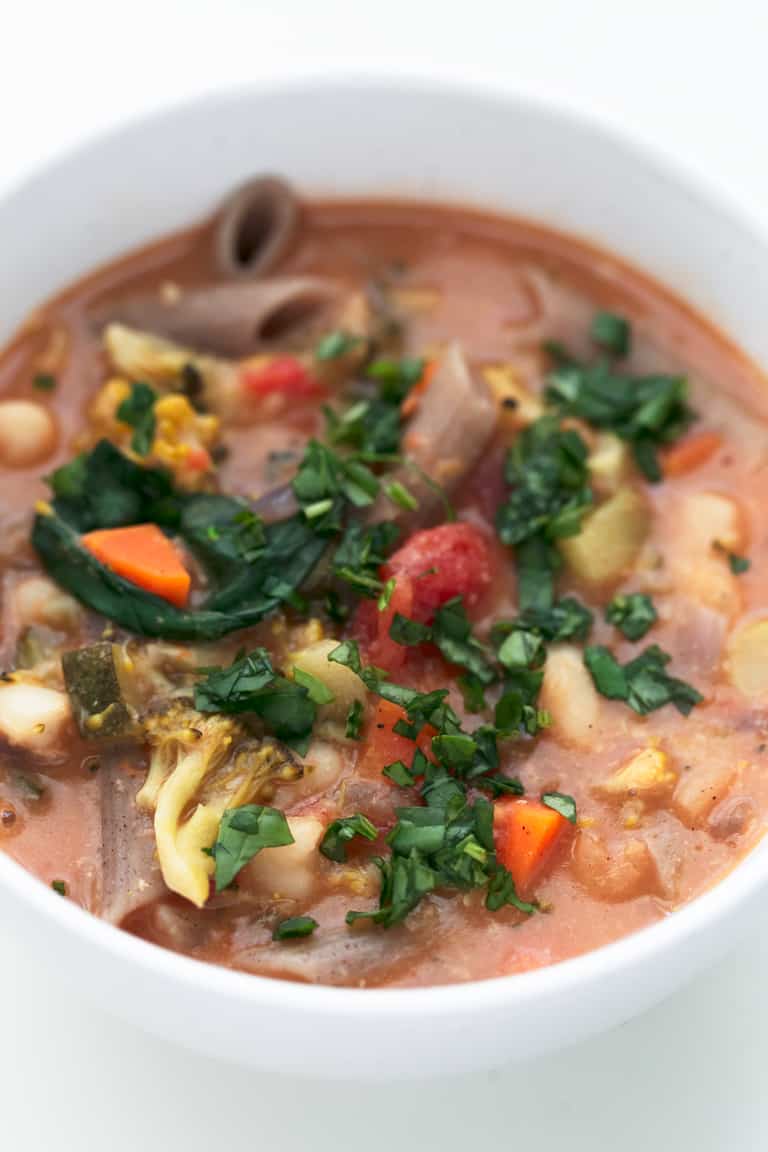 have always been very fond of soups, although before I became vegan I didn't like the vegetable ones very much, but now I couldn't live without them.
2

dientes de ajo, finamente troceados

1

cebolla morada o blanca, troceada

1

calabacín, en dados

2

zanahorias, en dados

1/2

cabeza de brócoli, troceada y sin el tallo
1 lata de tomates (400 g ó 14 oz), troceados

4

tazas de caldo de verduras (

1

litro)

1/2

cucharadita de sal

1/8

cucharadita de pimienta negra molida

1

bote de alubias blancas (

400 g

ó

15 oz

), coladas y lavadas

225 g

de pasta (

8 oz

), nosotros usamos macarrones de trigo sarraceno

2

cucharadas de levadura nutricional o de cerveza
Un puñado de albahaca fresca
Instructions
Put all the vegetables in a pot ( garlic, onion, zucchini, carrot and broccoli) together with the can of tomatoes, broth, salt and pepper and cook over high heat until it comes to a boil.
Add the beans and pasta, turn the heat down to medium-high and cook for about 10 minutes or until the pasta is done. Add more broth if needed.
Remove from heat and add nutritional or brewer's yeast and whole or chopped fresh basil, stir and serve.

< li id="instruction-step-4">You can store the vegan minestrone soup in the fridge in an airtight container for about 4-5 days.
Notes
The broth can be substituted for water, although the soup will have less flavor.
If you want you can sauté the vegetables in a little oil before add the rest of the ingredients so they have more flavor or add a splash of oil at the end when you remove the pot from the heat.
Add any vegetable or legume to the soup and if you want you can eliminate the pasta or replace it with potato or rice.
Add more broth if you like your soup thicker. When reheating it, you may also need to add more.
Instead of nutritional or brewer's yeast you can add our vegan parmesan cheese.