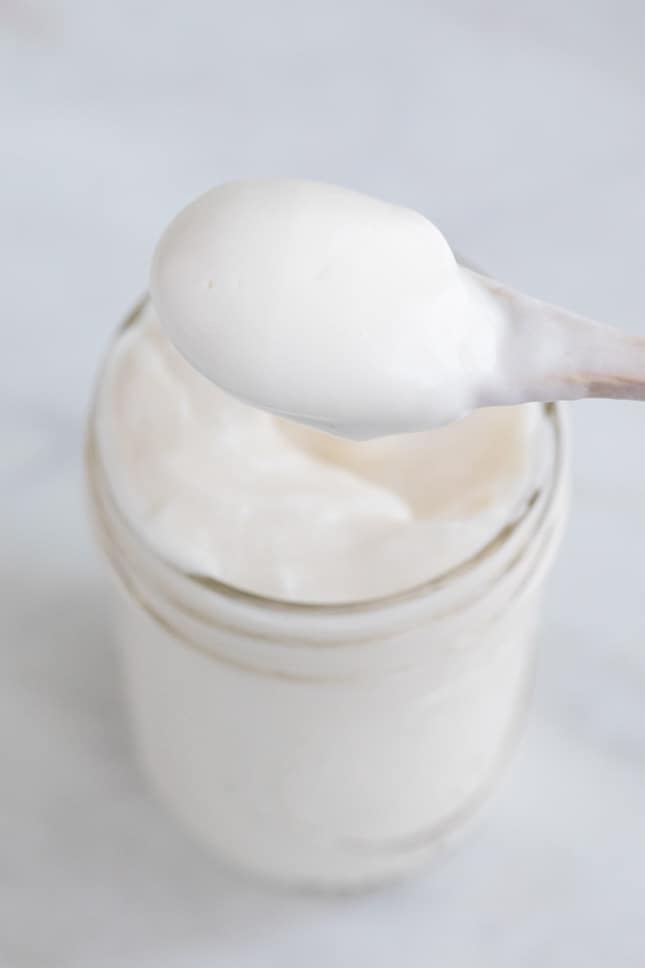 Who doesn't like mayonnaise? It is one of those sauces that we love and that we miss when we become vegan, but I have good news for you. You can prepare vegan mayonnaise with 4 ingredients in 2 minutes.
1

taza de aceite de girasol (

250

ml)

1/2

taza de leche de soja (

125

ml)

2

cucharaditas de vinagre de manzana o de zumo de limón

1/2

cucharadita de sal
Instructions
For the mayonnaise to come out right, you ideal is that the milk and oil are at the same temperature. I like to use milk and oil that are at room temperature.
Ideally, make this recipe with a hand mixer. In that case, pour the oil, milk, vinegar or lemon juice and salt into the blender jar, place the blender at the bottom of the jar and beat at medium speed until emulsified, then you can make movements from bottom to top. up until it is perfectly integrated.
Taste the mayonnaise and if it is bland, add more salt and beat it again a little with movements from the bottom up until the salt is fully integrated. If the mayonnaise is very thick, add more milk and if it is very liquid, add more oil. Blend again.
If using a blender, add all ingredients except oil and blend for about 5 seconds. Then add the oil a little at a time on low speed until it starts to emulsify, then you can gradually increase the speed until it's fully incorporated.
You can use it immediately or store it in an airtight container in the fridge for a few hours to chill. Store leftovers in an airtight container in the fridge for about 4-7 days.
Notes
You can use any type of oil, although olive oil gives a strong flavor to mayonnaise that not everyone likes.
This recipe is designed to use soy milk. I have tried it with almond milk and it has worked for me, but the texture and taste were worse. There are followers who have made it with other types of milk and it has worked for them and others have not. I only guarantee that it will come out with soy milk.
Although apple cider vinegar is my preferred option, you can also use other types of vinegars, especially if they are neutral in flavor. For example, I would not use balsamic vinegar.
The hand blender works much better than the glass one and also the mayonnaise is prepared faster, I would say even in 1 or 2 minutes.

< li>It is very important that the milk and oil are at the same temperature and I have obtained better results when both are at room temperature.

If your mayonnaise does not emulsify, try adding a little more oil, but the key is that the milk and oil are at the same temperature and that you follow the recipe steps exactly.
Keep in mind that mayonnaise thickens a little more in the fridge.
You can add other ingredients to enrich your mayonnaise such as garlic (and you will have a delicious vegan alioli), mustard or some syrup like maple syrup to give it a sweet touch. It is also very tasty with some fresh or dried herb such as parsley.