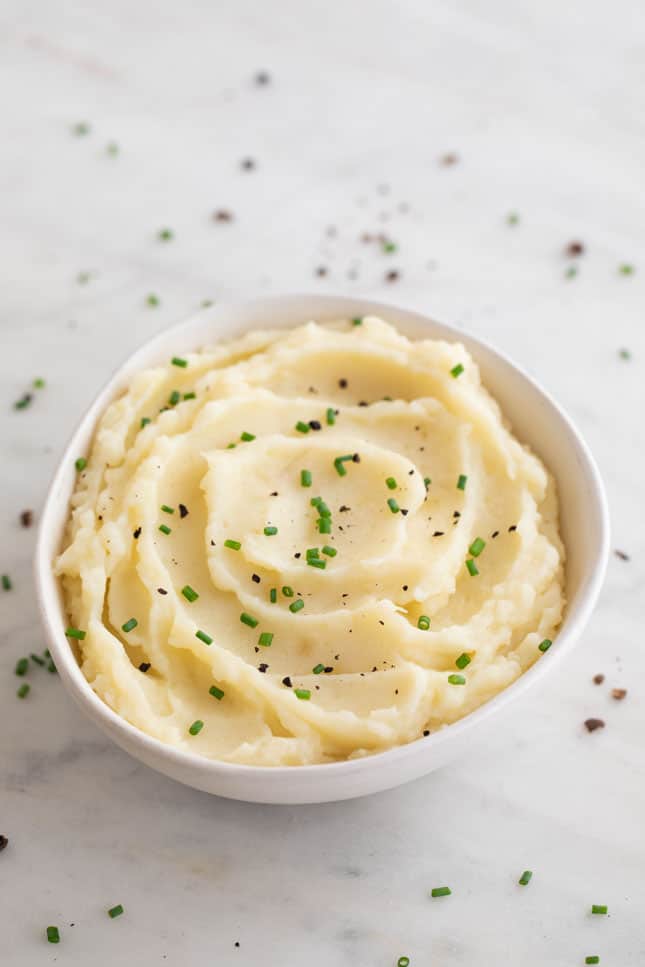 This vegan mashed potatoes is a very cheap side dish, easy to prepare and always a hit because it's delicious. In addition, it goes with almost any dish and I personally love to include it on special occasions such as Christmas feasts.
1

kilo de patatas (

2

libras), peladas y troceadas en cubos de unos 2 cm ó 1 pulgada

4

cucharadas de aceite de oliva virgen extra o de mantequilla vegana derretida

1/2

cucharadita de sal

1/2

–

3/4

de taza de leche vegetal sin endulzar (

125

–

200

ml), yo usé leche de soja
Instructions
Put the potatoes in a pot and add cold water (potatoes need to be covered).
Cook over high heat until water boils, then cook over medium heat for about 15-20 minutes or until potatoes are tender.
Strain the potatoes.
To remove excess moisture from the potatoes, you can put them back in the pot and cook them over medium-high heat for about 2-3 minutes, stirring frequently. This step is optional.
Mash the potatoes using a potato masher, fork, or potato masher. You can also use a hand mixer.
Add the oil and stir until it's fully incorporated with the potatoes.
Add the salt and stir again.
Finally, add the milk little by little (ideally, it should be hot so that the puree does not cool, but not essential). I like to add it in 2 or 3 batches, mixing in between. Add more or less milk depending on how thick you like your puree.
Once you've stirred to a smooth consistency, you can serve the puree. I sprinkled some ground black pepper and chives on top for garnish, but it's optional.
Store leftovers in an airtight container in the fridge for 4- 5 days or in the freezer for 1 month.
Notes
For the ideal texture of your mashed potatoes, it is best to use potatoes with a high starch content, although you can use any type of potato.< /li>
I like to peel the potatoes for a creamier, finer texture, but you can leave them skinned if you like.
While you're peeling and chopping the potatoes, you can leave the potatoes peeled you're not using in a bowl of cold water so they don't brown.
I prefer to add the salt once the potatoes are cooked, but if you want you can add a handful of salt to the pot when Add the potatoes and the water. In that case you would have to add less salt at the end.
I have read in several recipes that the ideal is not to use a hand blender or a food processor because otherwise the texture of the puree will be a bit rubbery. In my experience, if you're patient, the texture works better if you use a potato masher, but it works well with a hand mixer too, so feel free to use that if that's more convenient.
Instead of non-dairy milk You can also add vegetable cream, sour cream, vegan cream cheese, vegetables, water, or a mixture of several.
I prefer to use extra virgin olive oil, but you can substitute some liquid if you do not take oil (such as water, vegetable broth or vegetable milk) or by vegan butter or melted margarine.
The nutritional information has been calculated using 1/2 cup of unsweetened soy milk (125 ml).
< h2>