Who doesn't like lasagna? And it's so easy to make a vegan version that I don't know why I haven't shared the recipe sooner. It is a very rich and simple option for parties and is sure to be a hit among vegans and non-vegans alike because it is scrumptious and has nothing to envy traditional lasagna, plus it is healthier, lighter and more nutritious.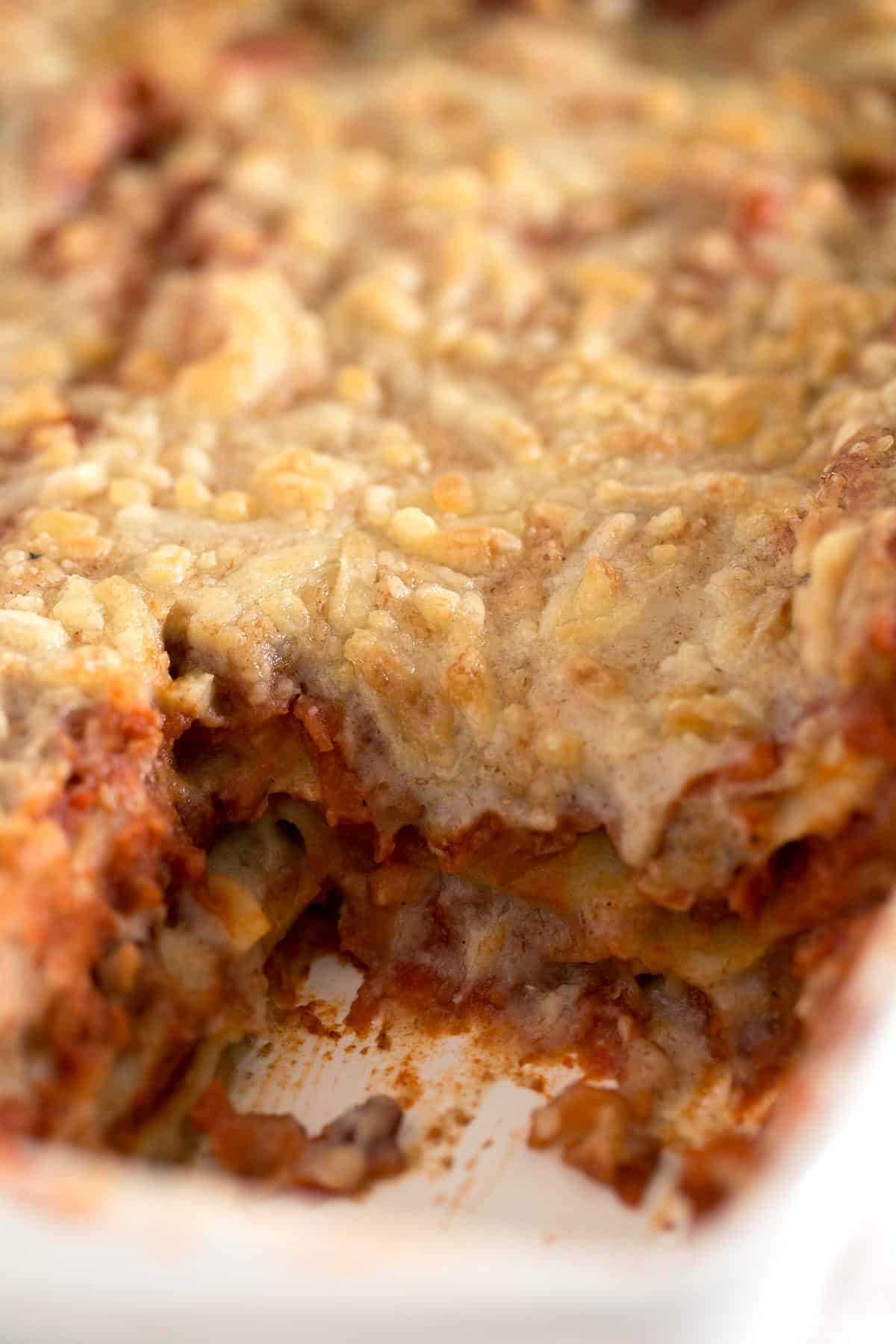 Para el ragú o boloñesa de lentejas:
2

cucharadas de aceite de oliva virgen extra

1

cebolla

1

rama de apio

1

zanahoria

1/4

taza de vino tinto (

65 g

), opcional

2

latas de tomate de lata de 400 g ó 14 oz cada una

1

cucharada de orégano seco

1/2

cucharadita de sal marina
Pimienta negra molida al gusto

400 g

de lentejas cocinadas o de bote (

14 oz

)
Para la bechamel vegana:
4

cucharadas de aceite de oliva virgen extra

1/2

taza de harina integral de trigo (

60 g

)

2

y 3/4 tazas de cualquier leche vegetal sin endulzar (

690 g

)

1

cucharadita de sal marina

1/2

cucharadita de nuez moscada
Pimienta negra molida al gusto
Otros ingredientes para la lasaña:
12

placas de pasta para lasaña

200 g

de queso vegano (

7 oz

)
Instructions
For the lentil ragu or bolognese:
< ol>
Cut the onion, celery and carrot.
Heat the oil in a pan and cook the vegetables over medium-high heat until golden brown.
Add the wine and cook for 1 or 2 minutes over high heat or until the alcohol evaporates.
Add the tomato, oregano, salt and pepper, stir and cook over medium-high heat for about 5 to 10 minutes.
Add the lentils and cook for another 5 minutes.
Brush the sauce with the help of a hand blender. If you want you can use a glass blender, but be careful not to beat too much. Reserve.
For the vegan bechamel:
Heat the oil in a saucepan or pot.
Add the flour and cook over medium-high heat for 1 or 2 minutes so that it browns a little. We stir constantly so that it doesn't stick.
We pour the milk little by little, stirring with the help of some rods. The milk can be cold, hot or seasonal.
When the sauce has the typical texture of a bechamel, we add the rest of the ingredients (salt, nutmeg and pepper ). Reserve.
To assemble the lasagna:
We use precooked pasta, but follow the package instructions to find out what to do with the pasta.
Preheat the oven to the temperature indicated on the pasta package, in our case they were 200ºC or 390ºF.
In a baking tray, place a layer of bechamel on the bottom, then four sheets of lasagna, a layer of ragout or lentil bolognese, another layer of bechamel and vegan cheese to taste (see photo 4) and then another 4 plates of lasagna.
Then we would again add a layer of ragu, bechamel, vegan cheese and new the paste. We repeat this step one more time and finally we place the ragu, bechamel and cheese on top.
We bake the lasagna for 30 minutes at 200ºC or 390ºF. To know the time and temperature, you have to follow the instructions on the package of the lasagna sheets.