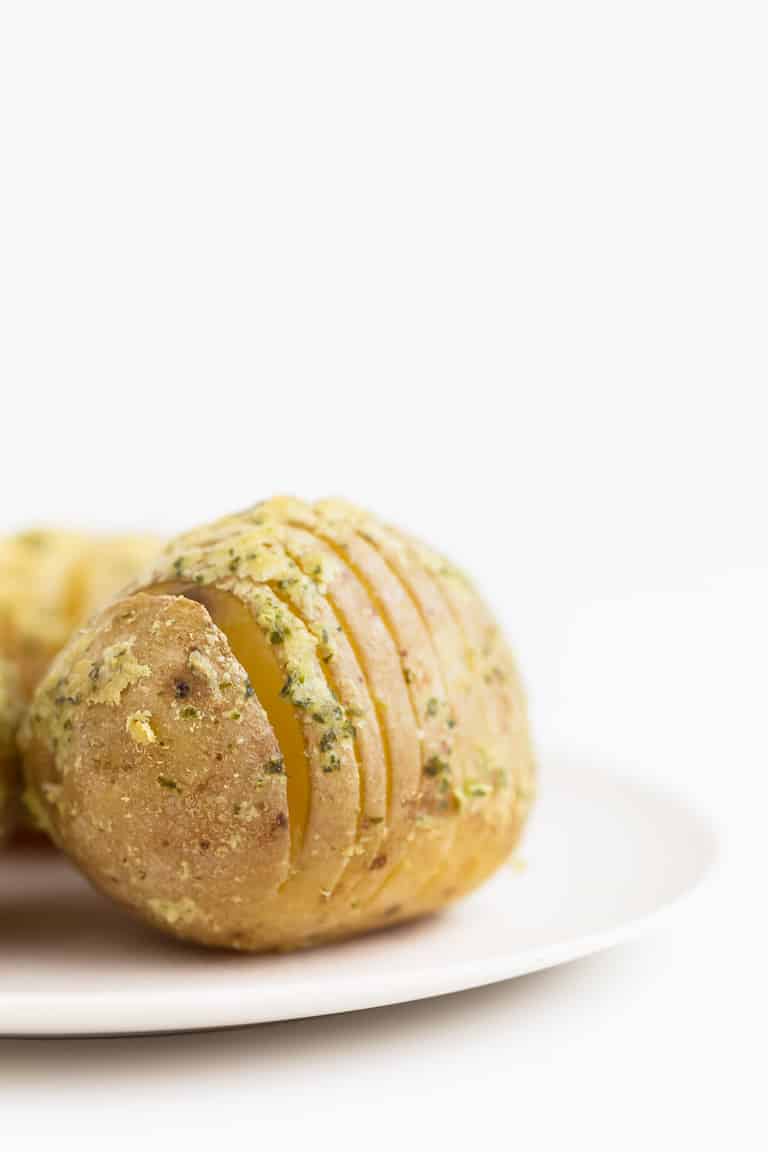 Potatoes are my favorite side dish and that's why I couldn't miss a recipe with potatoes for Christmas. I had this one on my to-do list, but I was hesitant to make it because it is usually made with butter, margarine, or a large amount of oil. Suddenly one day I remembered how delicious our pan de Low Fat Vegan Garlic and thought I could use the sauce to make a low fat version.
1

diente de ajo

2

cucharadas de tahini

2

cucharadas de agua

1/4

cucharadita de sal

1

puñado de perejil

4

patatas (900 g ó 2 libras)
Instructions
Preheat oven to 180º or 350ºF.
Blend all ingredients (except potatoes) in a blender or food processor. Set aside.
Wash the potatoes and do not peel them. Make parallel cuts every 1/2 cm (or 1/4 inch), but do not go all the way down. It is easier if you put a wooden spoon to act as a stop for the knife. I recommend you take a look at the third photo to get an idea.
Place the potatoes on a tray, pour in the sauce and bake for 60-70 minutes or until the potatoes are done.
You can serve them directly with some chopped parsley on top (optional). They are also very tasty with a little vegan parmesan.
Vegan Hasselback Potatoes can be kept in the fridge in an airtight container for up to 5 days.
Notes
If you want you can add a little salt to taste to the potatoes in addition to the sauce.