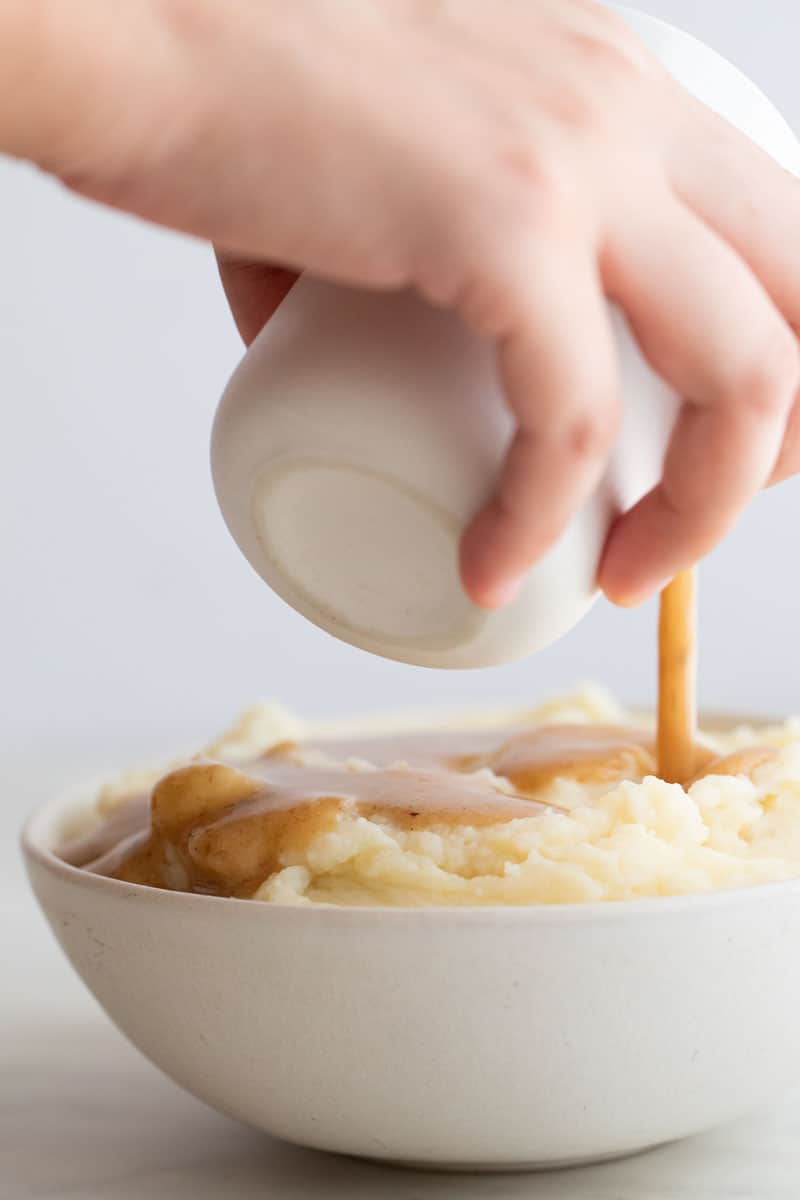 Gravy sauce is a typical sauce from Anglo-Saxon countries that is often used to accompany dishes such as mashed potatoes, rice or certain meat dishes.
2

cucharadas de aceite de oliva virgen extra

1/4

taza de harina (

30 g

), yo usé harina de trigo integral (versión sin gluten en notas)

1/2

cucharadita de ajo en polvo

1/2

cucharadita de cebolla en polvo

1/4

cucharadita de romero

1/4

cucharadita de tomillo

1/4

cucharadita de pimienta negra molida

2

cucharadas de tamari o salsa de soja

2

tazas de caldo de verduras (

500

ml)

1

taza de leche vegetal sin endulzar (

250

ml), yo usé leche de soja
Instructions
Pour the oil into a pot or saucepan and when hot add the flour. Stir with a whisk and cook over medium heat for 1-2 minutes or until just starting to brown.
Add the spices (garlic powder, onion powder, rosemary , thyme and pepper) and stir again.
Add the tamari or soy sauce and stir.
Add the vegetable broth and milk little by little while stirring with the rod so that no lumps form.
Cook over medium heat for about 5 minutes or until thickened, stirring frequently.
Serve immediately with dishes such as vegan mashed potatoes or vegan meatloaf. You can store leftovers in an airtight container in the fridge for about 3-4 days or in the freezer for 3-4 months. To reheat the gravy sauce you just have to use a saucepan or pot and cook it over medium-low heat, stirring frequently with a whisk so that no lumps form. If it's too thick, try adding a little more broth and/or milk.
Notes
I have improved the recipe and the original had only 1 and 1/2 cups of broth, 1/2 cup of milk, 1 tablespoon of tamari or soy sauce and 1 /8 teaspoon ground black pepper, in case you prefer the previous version.
There are recipes that use cornstarch or other starches, but I personally prefer to use whole wheat flour because it is less processed.
If you can't eat gluten, you can use any gluten-free flour. I've tried the recipe using brown rice flour and it's very good.
If you can't have soy, use another non-soy vegetable milk and replace the tamari or soy sauce with salt to taste.
If you don't want to use oil, you can substitute it with water or vegetable broth or add directly all the ingredients in the saucepan or pot, mix them and cook them until thick.
If you like the gravy thicker, add less liquid and if you like it more liquid, add more.
You can use whatever dried herbs and spices you like.
If you want your sauce to have a darker color, try using dark soy sauce.