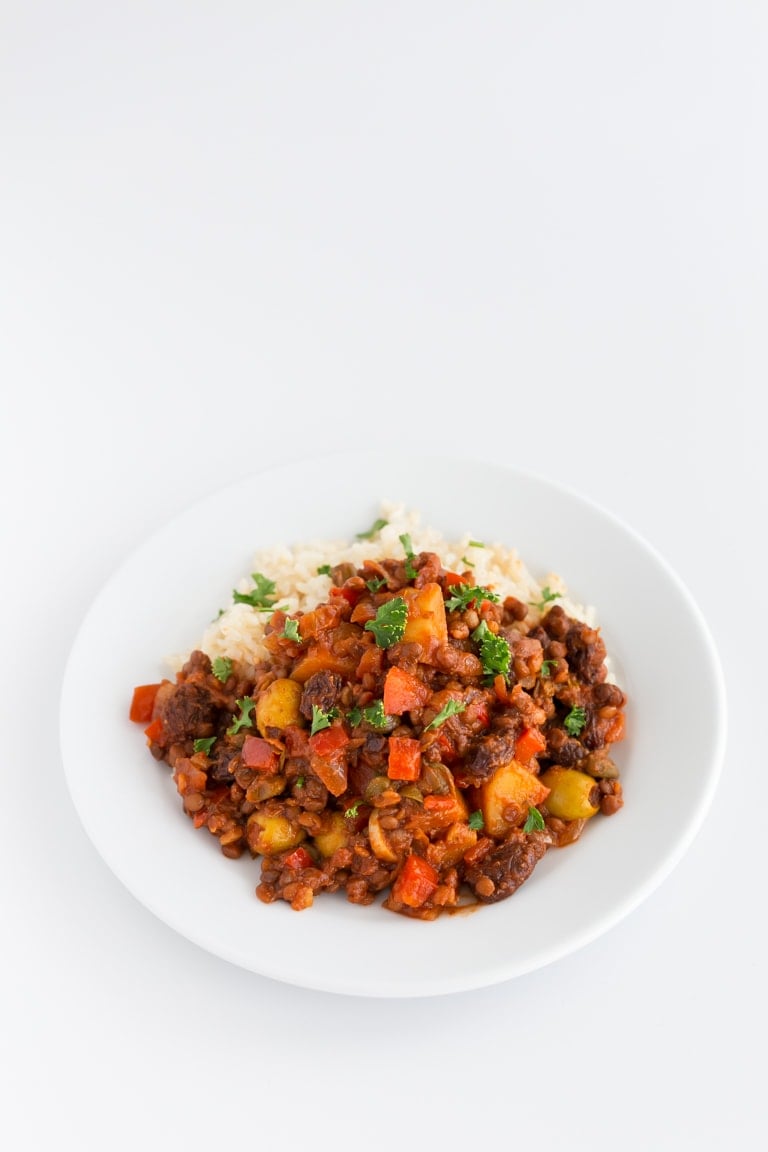 The traditional Cuban picadillo is prepared with minced meat, but we have replaced it with lentils, which are healthier and are also very good. I had never made this dish before, in fact I discovered it on Pinterest, so I I took a look at several recipes and have made my own version.
2

dientes de ajo, troceados

1/2

cebolla roja, troceada

1

pimiento rojo, troceado

1/4

taza de concentrado de tomate (

4

cucharadas)

1

cucharada de orégano seco

1

cucharada de comino molido

1/4

cucharadita de sal

1/8

cucharadita de cayena

1/8

cucharadita de pimienta negra molida

1/4

taza de pasas (

4

cucharadas)

2

tazas de agua o caldo de verduras (

500

ml)

2

patatas medianas, peladas y troceadas en cubos

1

bote de lentejas (

400 g

ó

15 oz

)

1/2

taza de aceitunas verdes rellenas de pimiento o sin hueso (

80 g

)

2

cucharadas de alcaparras
Instructions
Cook the vegetables in a little water or oil (garlic, onion, and bell pepper) in a deep skillet, wok, or pot over medium-high heat until just starting to brown.
Add the tomato paste and spices (oregano, cumin, salt, cayenne and pepper), stir and cook for at least a couple of minutes, stirring occasionally.
Add the raisins , the water or broth, and the potatoes and cook over high heat until it comes to a boil, then reduce to medium-high heat and cook about 20 minutes or until the potatoes are tender.
Add the rest of the ingredients (lentils, olives and capers), stir and cook for 5 minutes over medium-high heat. Serve immediately (we serve it with brown basmati rice and some chopped parsley).
You can store leftovers in the fridge in an airtight container for about 5 days.
Notes
Add your favorite vegetables and spices.
Tomato paste can be substituted for tomato sauce.
If you make the recipe with broth will have more flavor than if you make it with water.
You can add the unpeeled potatoes if you want.
If you don't like raisins or capers, add more olives or do not throw anything.