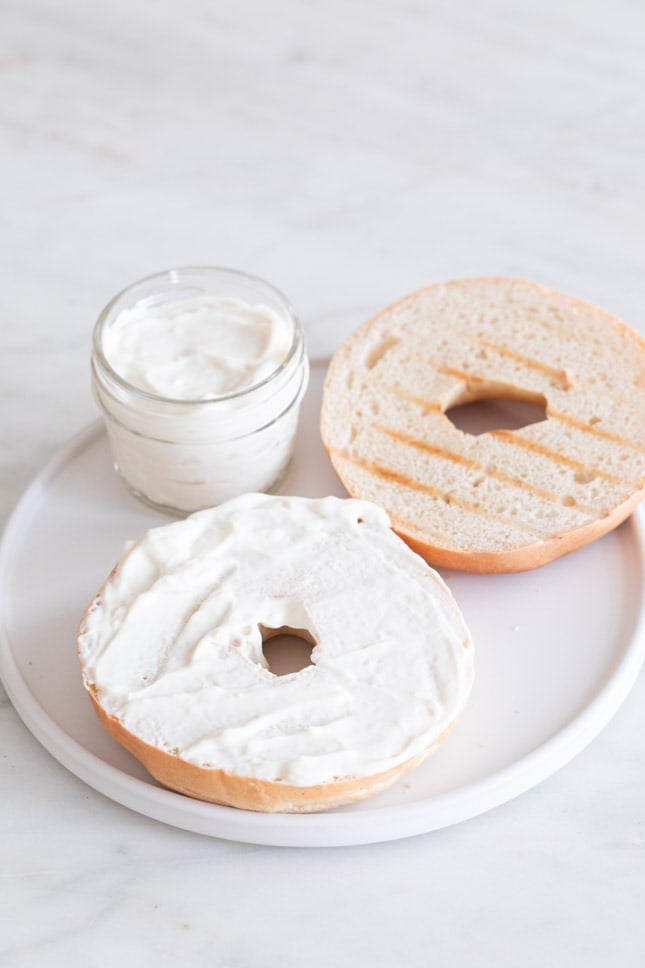 Cheese is the hardest thing to leave behind for most vegans and in fact many people are not 100% vegan simply because of the cheese, but I have good news for you. This vegan cream cheese has nothing to envy to the original and is incredibly easy to prepare.
2

tazas de yogur vegetal sin endulzar (

500 g

), yo usé yogur de soja

1/2

cucharadita de sal marina
Instructions
Place a cloth or napkin in a jar or cylindrical container and secure it with a rubber band so that it does not move.
Pour the yogurt on the cloth or napkin and let it rest in the fridge for at least 8 hours to lose water. What we want is to separate the solid part of the yogurt from the liquid and discard the water it releases. The longer you leave it in the fridge, the denser the cheese will be.
When the yogurt is the consistency you want, put it in a bowl, add the salt and stir until the two ingredients are well combined.
You can consume the cream cheese immediately or store it in the fridge in an airtight container for about 4-7 days.
Notes
You can use any yogurt, it doesn't have to be soy yogurt. You can also use homemade or packaged yogurt.
Depending on the type of yogurt you use, you will have to leave it in the fridge for more or less time because each yogurt has a different amount of water.
Taste the cheese when ready and add more salt if necessary.
You can add other ingredients such as garlic powder, onion powder, other spices or dried herbs such as dill, etc. li>
I've modified the recipe to be more basic, but the original recipe also called for 1/2 teaspoon onion powder and 1 teaspoon dried dill.