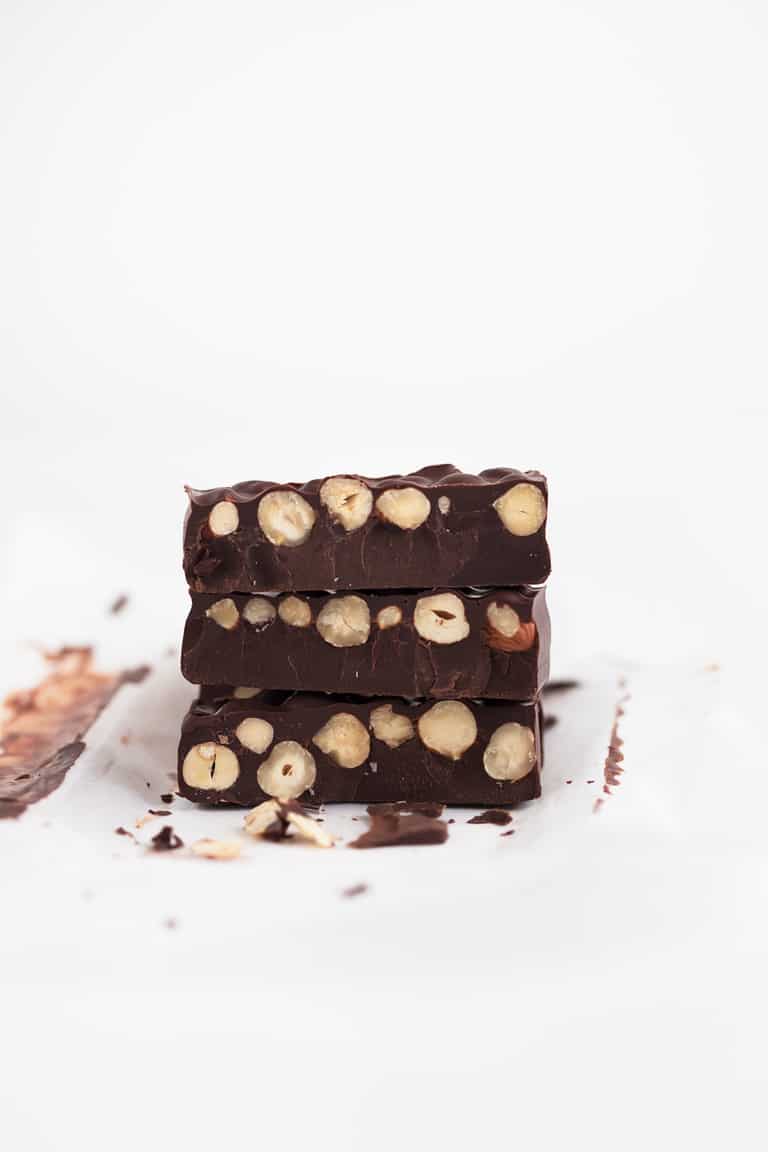 One of the sweets that can not be missed at Christmas is the nougat and since we did not have any recipe on the blog, we decided to remedy it and make a survey on Instagram. We gave you the choice between chocolate and almond nougat and the chocolate one won by a landslide, so since your wishes are orders for us, here is the recipe.
250 g

de chocolate negro para fundir (

9

onzas)

2

cucharadas de aceite de coco

2/3

taza de avellanas crudas y sin sal (

40 g

)
Instructions
Pour the chopped chocolate into a saucepan and melted coconut oil. Cook over medium heat, stirring occasionally, until the chocolate is completely melted.
Remove from the heat, add the hazelnuts and stir until all the ingredients have melted integrated perfectly.
Pour the mixture into a mold (see notes) with a little baking paper.
Let cool to room temperature, chop and serve.
You can store the wrapped chocolate nougat at room temperature in a cool, dry place. If it gets too hot and it starts to melt, store it in the fridge.
Notes
We prefer to use melting chocolate because it looks better, but you can use regular dark chocolate if you want.
The hazelnuts can also be roasted, although we we prefer them raw to be more nutritious.
You can use almonds, puffed rice, or any other nut or ingredient you want.
The oil doesn't have to be coconut oil, though I recommend that you do not use refined oils or extra virgin olive oil because it will have a very strong flavor.
We use an 8x19x2 cm or 3.2×7.5×0.8 inch mold (we reuse a wooden container of an ecological nougat that we bought at the herbalist), but you can use any other with a similar size or if not, you can cut a milk carton and use it as a mold.