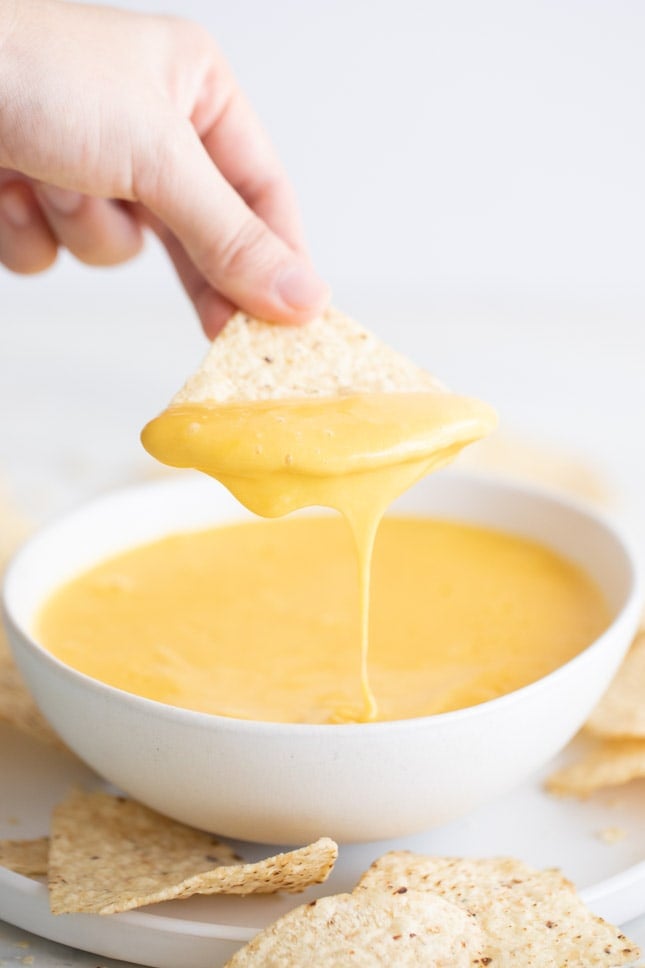 Cheese was my passion before I went vegan and it's one of the reasons so many people are vegetarian and don't follow a 100% plant-based diet, but I have good news: you can make delicious plant-based cheeses and this vegan cheese is proof of that. .
2

tazas de patata (

360 g

), pelada y troceada

1

taza de zanahoria (

135 g

), pelada y troceada

1/2

taza de agua (

125

ml)

1/2

taza de levadura nutricional o de cerveza (

35 g

), ver notas

1/3

taza de aceite de oliva virgen extra (

85

ml)

1

cucharada de zumo de limón

1

cucharadita de sal

1/2

cucharadita de ajo en polvo

1/2

cucharadita de cebolla en polvo
Instructions
Put the potato and carrot in a pot with boiling water and cook for about 20 minutes or until tender. If you want you can also steam them.
Strain them and put them in a blender together with the rest of the ingredients and beat until you get a creamy texture without lumps.
Notes
You can use water at room temperature, hot water or even take advantage of the cooking water of the vegetables. Personally, I prefer to use clean water from time to time.
I use extra virgin olive oil to make this recipe, but any type of oil will do.
If you don't want to use oil, you can replace it with water or with vegetable milk without sweetening.
The weight of nutritional or brewer's yeast varies quite a bit from one type or brand to another, so ideally you should use measuring cups or add 8 tablespoons. You can also add the 35g and add more if needed.
Both nutritional yeast and brewer's yeast will work. If you can't find them or prefer to use something else, substitute beer for the water, though in that case you may need to add a little less.
Nutritional and brewer's yeast are gluten-free (make sure they're put it in the package to avoid cross-contamination), but if you want you can also use gluten-free beer instead of water.
For a spicy touch you can add a chopped chilli or a little bit of chilli powder . You can also add other spices such as paprika to flavor your cheese.
Recipe adapted from Veggie on a Penny.