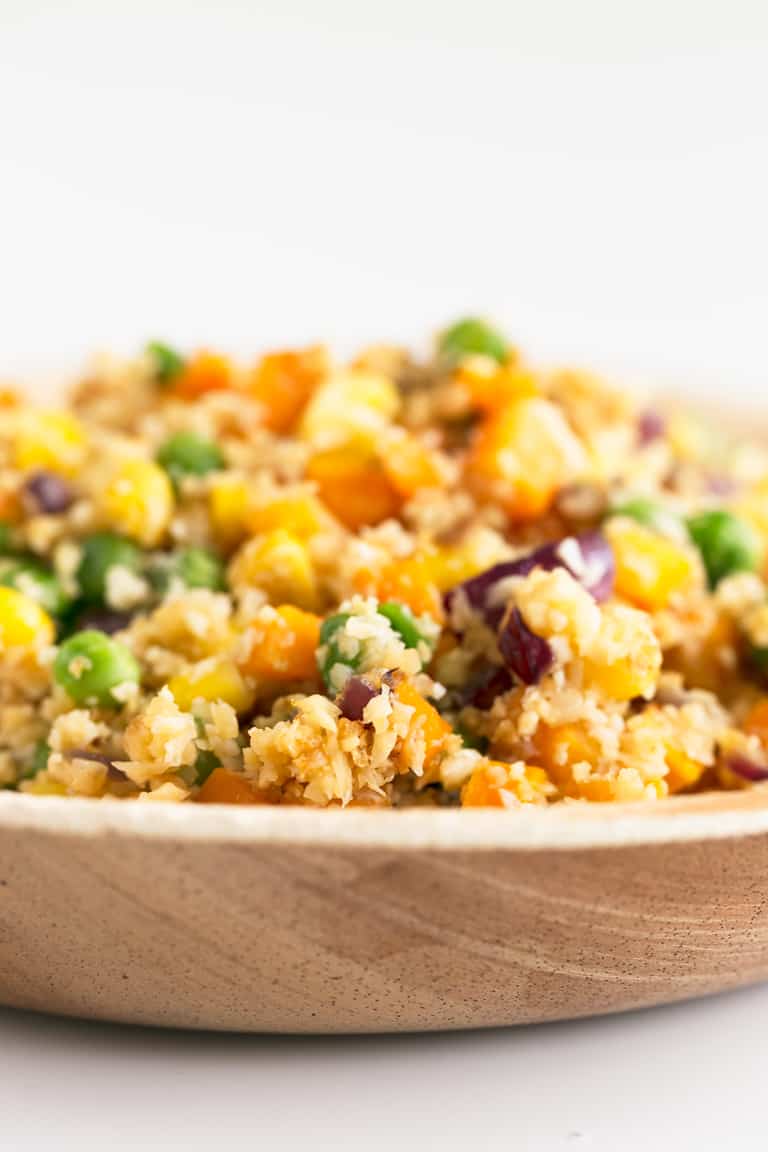 Fried rice is a classic in Chinese restaurants, such as fried rice three delicacies. In addition, it is a dish that everyone likes and very easy to prepare. It is also very handy because we can use any vegetable or ingredient that we have on hand.
225 g

de coliflor cruda (

8 oz

), troceada

1/2

cebolla roja, troceada

1

zanahoria mediana, troceada

1/2

taza de guisantes congelados o de bote (

70 g

)

1/2

taza de maíz congelado o de bote (

70 g

)

1

cucharada de tamari o salsa de soja
Instructions
Place the cauliflower in a food processor and beat until you get a consistency similar to rice. Then cook the cauliflower rice in a large skillet or wok with a little oil or water over medium-high heat for about 5 to 10 minutes, stirring occasionally. Reserve.
In the same pan or wok, cook the onion and carrot with a little oil or water over medium-high heat until golden brown.
Add the peas and corn. If they are from a can you can add them directly, if they are frozen you have to cook them previously following the instructions on the package. Stir and cook for a couple of minutes.
Finally add the cauliflower rice and tamari or soy sauce, stir and cook for 2 or 3 more minutes. Serve immediately.
Store leftovers in an airtight container in the fridge for about 3 or 4 days.
Notes
Add the vegetables and ingredients you want.
If you don't eat soy, you can substitute the tamari or soy sauce with a little salt.< /li>