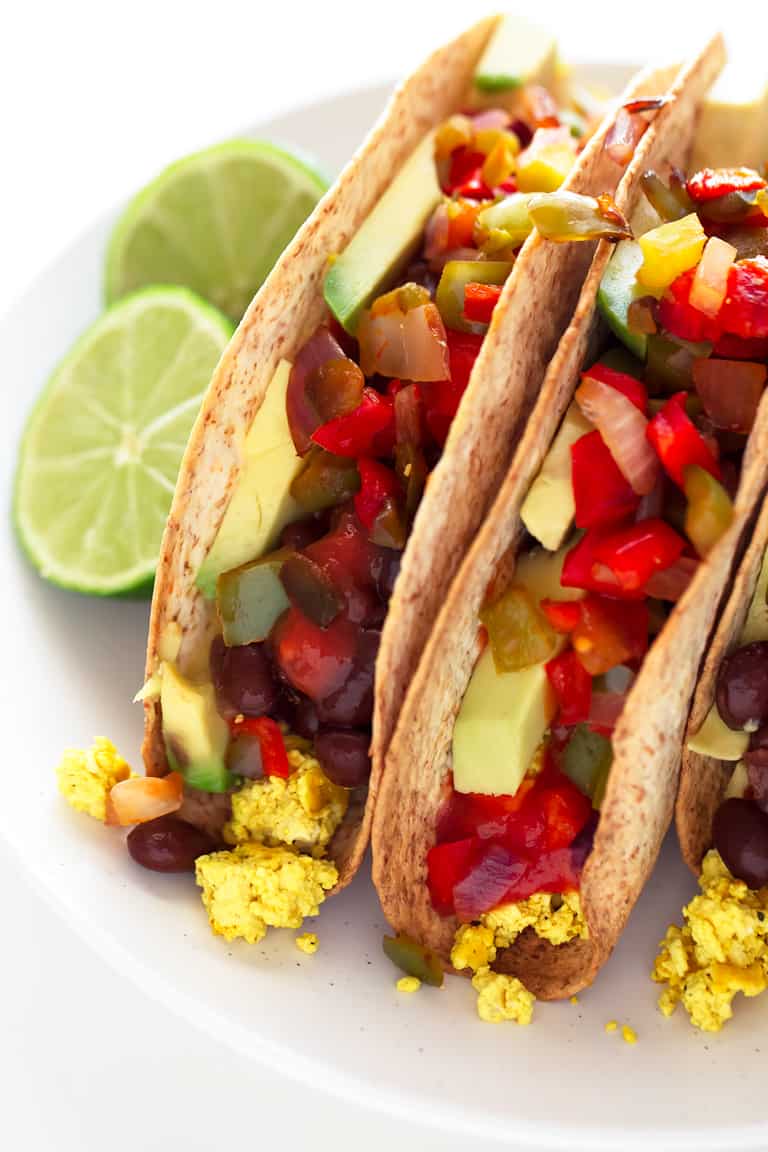 Have you ever had tacos for breakfast? It is not a very common option in Spain, but the truth is that they are a very rich and complete breakfast. If you are more traditional or prefer something sweet in the morning, don't worry, they can also be prepared for lunch or dinner, alone, accompanied by a delicious salad or with your favorite side dish.
6

tortillas integrales, podéis usarlas de maíz para que sean sin gluten

1/2

pimiento rojo

1/2

pimiento verde grande ó 1 pequeño

1/2

cebolla roja

275 g

de tofu firme (

10 oz

)

1/4

cucharadita de cúrcuma

1/4

cucharadita de sal marina
Pimienta negra molida al gusto

400 g

de frijoles de bote o cocinados (

15 oz

)

1

aguacate
Instructions
Preheat the oven to 200ºC or 400ºF and Place the tortillas on a grid as you can see in the third photo. Bake them for about 10 minutes or until golden brown and stiff. Reserve.
Chop the vegetables (red and green peppers and onion) and sauté them in a skillet over medium-high heat with a little water or oil for about 5 minutes or until cooked through, stirring occasionally. Reserve.
Cut the tofu and crumble it with the help of a fork so that it has a texture similar to that of a scrambled egg.
Put a little water or oil in a pan along with the tofu, turmeric, salt and pepper. Stir and cook over medium-high heat for about 5 minutes or until the tofu is cooked. We reserve.
Strain the canned beans and wash them to remove the liquid that comes inside and heat them with a little water in the pan.

< li id="instruction-step-6">To assemble the tacos we first add a bit of scrambled eggs, then beans, then a bit of salsa, the vegetables and finally the chopped avocado. We can serve them with a few slices of lime and sprinkle some juice on top.

Ideally, assemble the tacos just before serving. The filling can be stored in an airtight container in the fridge for about 3-4 days.
Notes
You can buy the taco shells already made or not complicate your life so much and simply heat them in a pan.
Use the vegetables that you like the most .
Beans can be replaced with any other legume.
Instead of sea salt you can add black salt or kala namak so that the scrambled egg has an egg flavor.