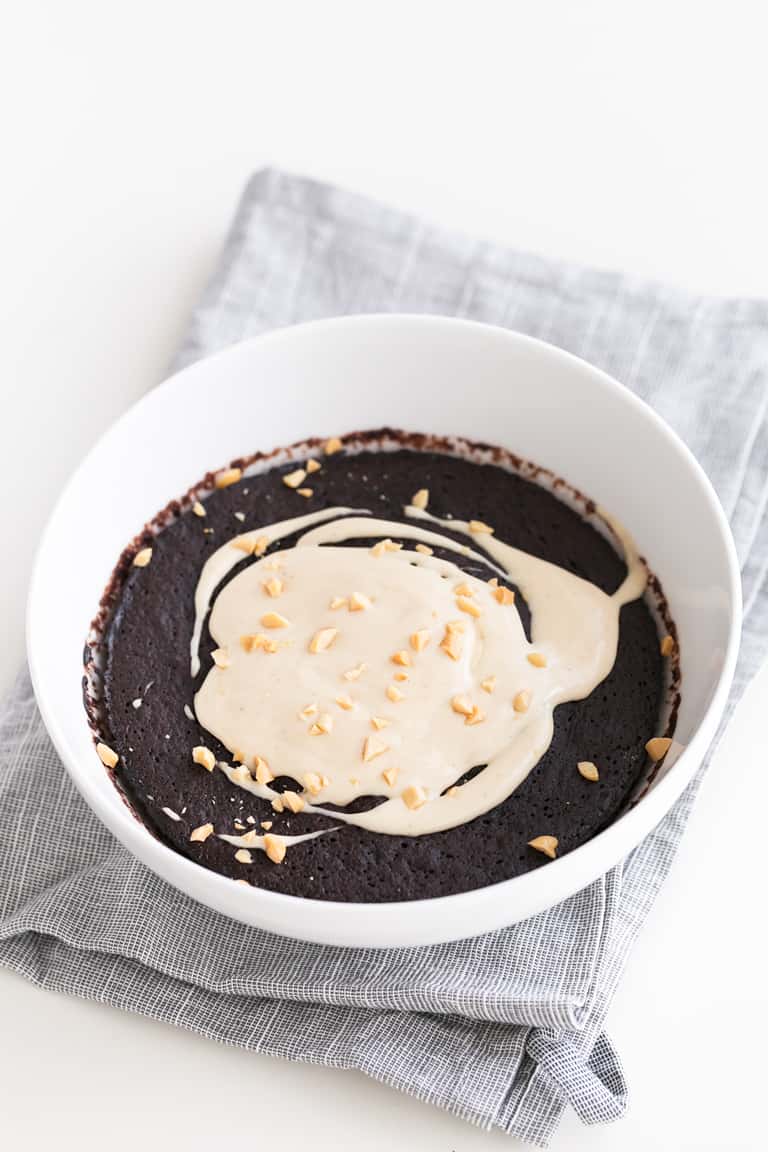 Before coming to Asia, my sister-in-law Alba (I affectionately call her curriñi) prepared one of those sponge cakes that are made in a cup in the micro for my brother-in-law Nacho (Alberto's brother) and although I'm not a big fan of the microwave , brought back memories of when I wasn't vegan and would make them at home when I had a craving for something sweet and quick, so I thought it would be a good idea to make a vegan version for the blog.
Para la tarta:
1/2

plátano

6

cucharadas de leche de coco de lata

4

cucharadas de azúcar moreno, de coco o panela

4

cucharadas de harina, nosotros usamos harina de trigo sarraceno

2

cucharadas de cacao en polvo sin azúcar

1/2

cucharadita de bicarbonato
Para la crema de cacahuete (opcional):
Instructions
In a bowl add the half banana and Mash it with the help of a fork.
Add the rest of the ingredients and stir well until they are perfectly integrated. If you want you can beat them in a mixer to get a finer texture, but it is not necessary.
Place the bowl in the microwave, but not in the center, but on one side and cook the cake for 4 minutes.
Take it out and let it cool to room temperature, although you can also have it hot if you want.
To make the cream you just have to mix the ingredients in a bowl until they are well integrated. We serve the cake with the cream and we also sprinkle some chopped peanuts on top, but it is optional, the cake alone is also very tasty. We didn't add all the cream to take the photos, but we did use all of it to eat the cake.
You can keep the covered cake in the fridge for about 4 or 5 days and the cream for about 3 or 4 also in the fridge in an airtight container.
Notes
Recipe adapted from my sister-in-law Alba (aka la curriñi).
You can use any flour or sweetener (if it's liquid, you'll probably have to add more flour).
As the recipe doesn't use oil, it works best if you use coconut milk because it has a higher fat content, but you can use any other vegetable milk and if it is too dry, add a little oil.
For those of you who don't have a microwave, I guess it can be done in the oven at 180ºC or 350ºF in a small pan until it browns on the outside and cooks on the inside, but I couldn't tell you the exact time.

ul>