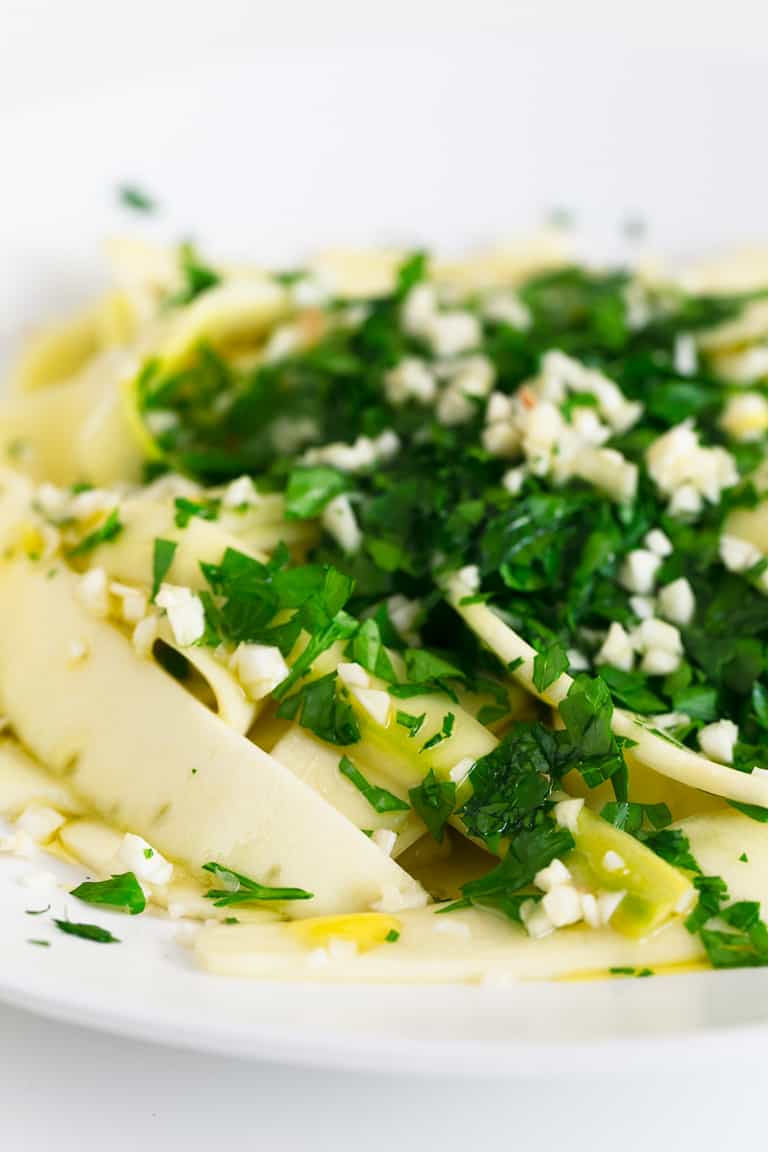 The anchovies in vinegar were one of the tapas that I ate the most when I was little in Malaga and I loved them. The recipe is essentially made with vegan ingredients, except for the anchovies which, for those of you who don't know, are a type of small fish. For this reason, if we replace the anchovies with courgette, we will obtain a 100% vegetable tapa.
1

calabacín grande (

400 g

ó

14 oz

)

1

hoja de alga nori ó 2 cucharadas de nori en copos (opcional)

1

cucharadita de sal

3/4

taza de vinagre de manzana (

200

ml)

1/4

taza de agua (

65

ml)

2

dientes de ajo, troceados

2

cucharadas de perejil fresco troceado

1

ó 2 cucharadas de aceite de oliva virgen extra
Instructions
Peel the zucchini and make strips using a peeler or a mandoline (if you don't have a knife you can manage). We use a mandolin and slice the zucchini about 3 mm or 1/8 inch thick. You have to discard the part of the center, where the seeds are. If you use a mandoline it is possible that the strips come out very wide, we cut them in half with a knife so that they were similar in size to an anchovy.
You can buy nori seaweed flakes or beat a sheet of nori seaweed in a whip until it is powdered.
In a bowl, put the zucchini and the salt and stir with the help of your hands or a spoon.
Add the vinegar, water and nori seaweed and stir again. Cover and store in the fridge for at least 4 hours (better overnight). The zucchini needs to be completely covered by the marinade.
Strain the zucchini and wash them so they don't have such a strong vinegar taste.
To serve, put the zucchini on a plate, add the garlic, parsley and olive oil.
You can save the leftovers in the fridge for about 2-3 days.
Notes
The nori seaweed is not essential, although I recommend that you add it because it is what gives it the flavor of the sea.
You can use any type of vinegar.
To make the garlic more digestible, you can remove the germ, although we like it as is.
The original recipe usually uses more oil, in fact the anchovies they are usually covered in oil, but they are also very tasty and lighter this way.
If you want your vegan anchovies to taste even more fishy, you can sprinkle a little nori flakes on top before serving .
Preparation time does not include standing time.
Nutritional information is not exact because the marinade liquid is broken down, so the sodium content will be much lower .
With the code DANZA-DE-FOGONES-5 you will get a 5% discount on any product on the Vitality 4 Life.