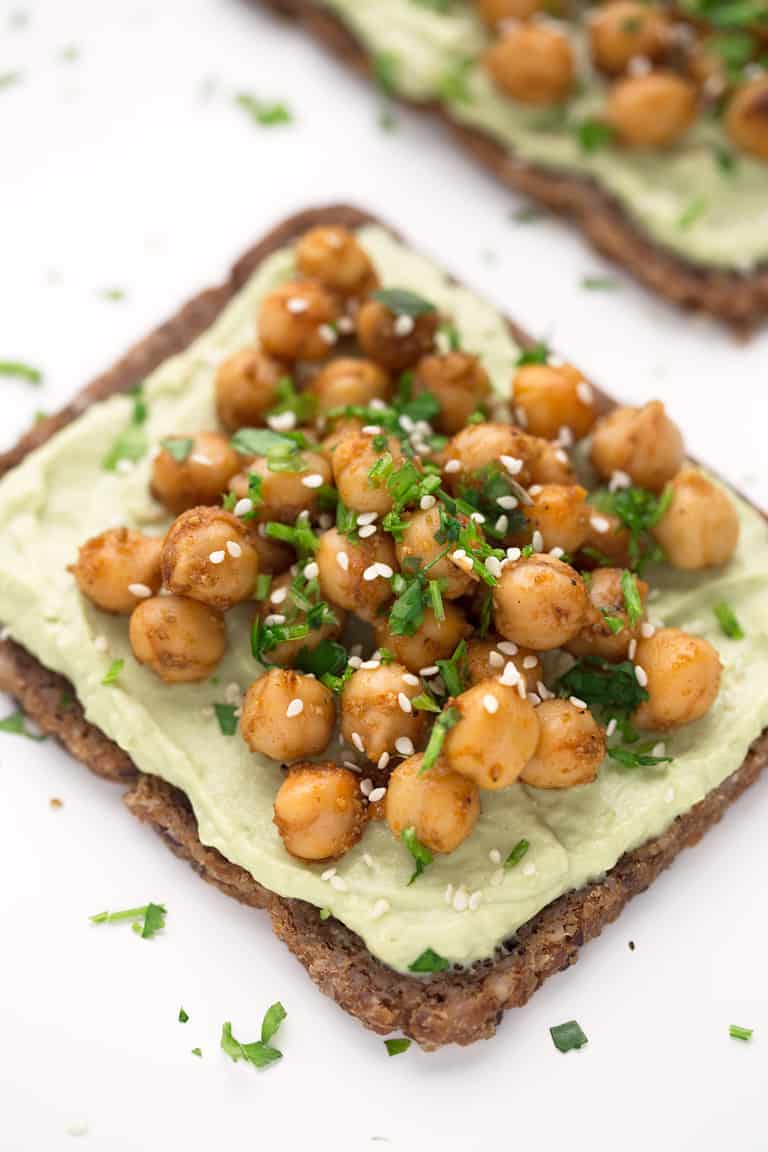 We are very busy with a very big project that we have in our hands and that we are looking forward to telling you about, so I needed to find a recipe that was easy, fast and simple because we did not have time to spare. It's been a long time since I shared some toast or some salty option for breakfast (or snack between meals) and these toasts have me in love.
4

rebanadas de pan, nosotros usamos pan de centeno alemán

1/3

taza de hummus (

80 g

)

1/4

de aguacate

200 g

de garbanzos de bote o cocinados (

7 oz

)

1

cucharadita de comino

1/2

cucharadita de ajo en polvo

1/2

cucharadita de pimentón

1/4

cucharadita de sal

1/8

cucharadita de pimienta negra molida

2

cucharaditas de aceite de oliva virgen extra o de tahini
Perejil fresco picado y semillas de sésamo para decorar (opcional)
Instructions
To make the avocado hummus we add the hummus and avocado in a food processor until well blended. Reserve.
To make the spiced chickpeas, put the chickpeas in a bowl along with all the spices and the oil or tahini (if you use tahini and it doesn't mix well with add a little water or lemon juice to the chickpeas) and stir well until well integrated. They can be eaten hot or cold, although we prefer to cook them a little in a pan until they are heated through.
We assemble the toasts by first adding a little avocado hummus, then spiced chickpeas and finally decorate with chopped parsley and sesame seeds. You can warm the bread up a bit if you want, though we didn't.
The avocado hummus and spiced chickpeas can be stored separately in airtight containers in the fridge for about 4 days.
Notes
If you don't want to complicate your life, you can buy ready-made hummus and use it directly without adding the avocado.
You can use other legumes, spices, herbs or seeds.
If you can't eat gluten, use gluten-free bread or rice cakes.