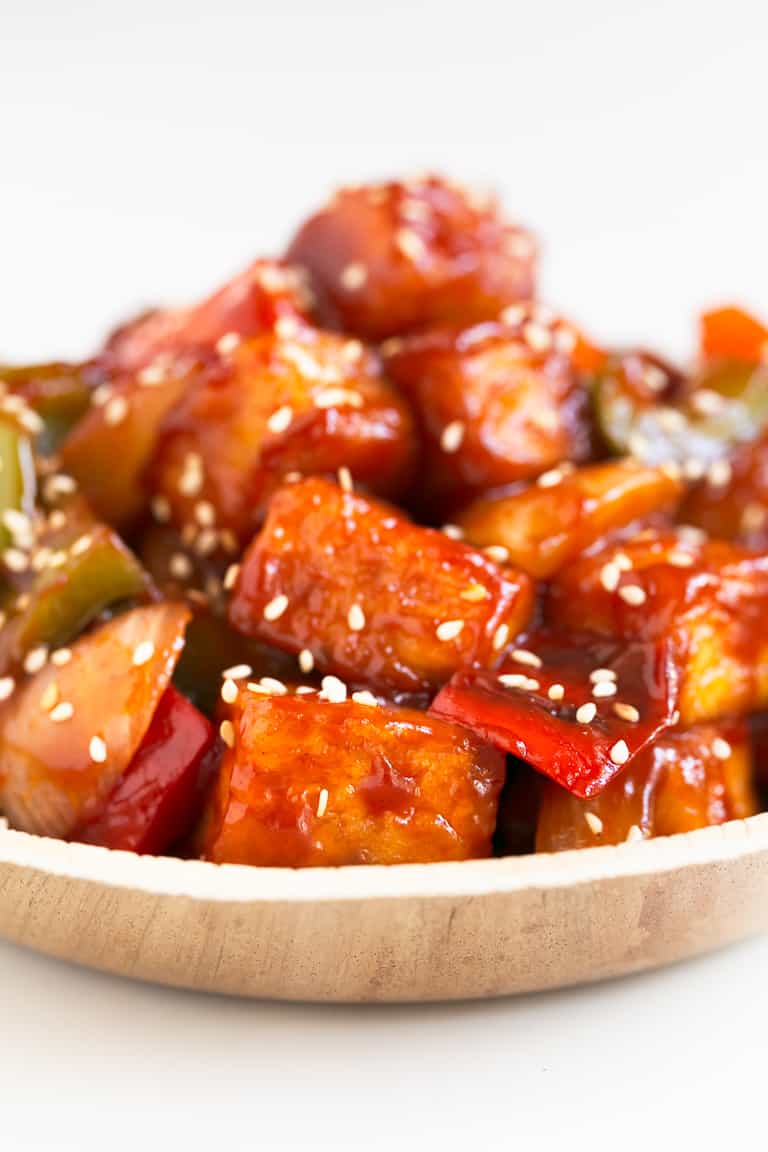 By now you know that I love tofu because I use it a lot for the recipes on the blog. I find it an ideal substitute for meat, especially when we want to imitate its texture in certain dishes.
Para el tofu agridulce:
2

cucharadas de tamari o salsa de soja

1

cucharada de vinagre de manzana

275 g

de tofu firme (

10 oz

), troceado en dados

6

cucharadas de maicena
Aceite de oliva virgen extra al gusto

1

zanahoria grande

1/2

pimiento verde

1/2

pimiento rojo

1/2

cebolla
Para la salsa agridulce:
4

cucharadas de azúcar de caña, coco o moreno

2

cucharadas de tomate concentrado

1

cucharada de vinagre de manzana

1

cucharadita de tamari o salsa de soja

6

cucharadas de agua (

100

ml)

2

cucharaditas de maicena
Instructions
Mix the tamari or soy sauce and add apple cider vinegar to a bowl; set aside.
Marinate the tofu cubes in the tamari-vinegar mixture for at least 5 minutes.
Strain the tofu and divide it into three batches (approximately). Put 1/3 of the tofu cubes in a freezer bag with 2 tablespoons of cornstarch in each batch and shake until perfectly coated. Repeat this operation with the other 2/3 and add more cornstarch if necessary. You can also coat them by tossing the cubes into a dish with cornstarch, but the bag technique is easier and more even.
Cook the tofu in a pan with very little oil until browned on all sides. Transfer to a plate and set aside.
Cut the vegetables into large chunks and cook them in the pan with a little water or oil over medium-high heat until golden brown . Reserve.
To make the sweet and sour sauce, place the sugar, concentrated tomato, vinegar and tamari or soy sauce in a saucepan and stir. Add cornstarch diluted in water, stir again and cook over medium-high heat until sauce thickens, stirring occasionally.
Mix in tofu, the vegetables and the sauce in the pan, stir and cook about 5 minutes over medium heat so that the flavors are integrated. Serve with a little sesame on top (optional).
You can store leftovers in an airtight container in the fridge for 4-5 days.

< /ol>
Notes
There are recipes for sweet and sour pork that use pineapple, but since the restaurants where I ate it before becoming vegan did not add it, I preferred to prepare the vegetable version no pineapple. If you want to add it, just sauté it with the vegetables and do the rest of the recipe the same.
You can use whatever vegetables, vinegar, or sweetener you want.
Cornstarch can be substituted for any other starch.
Instead of concentrated tomato, you can also use healthy ketchup o tomato sauce.
The amount of sodium in the recipe is lower than what appears in the nutritional information, since when marinating the tofu it does not absorb all the tamari or soy sauce, unless we leave it for several hours.