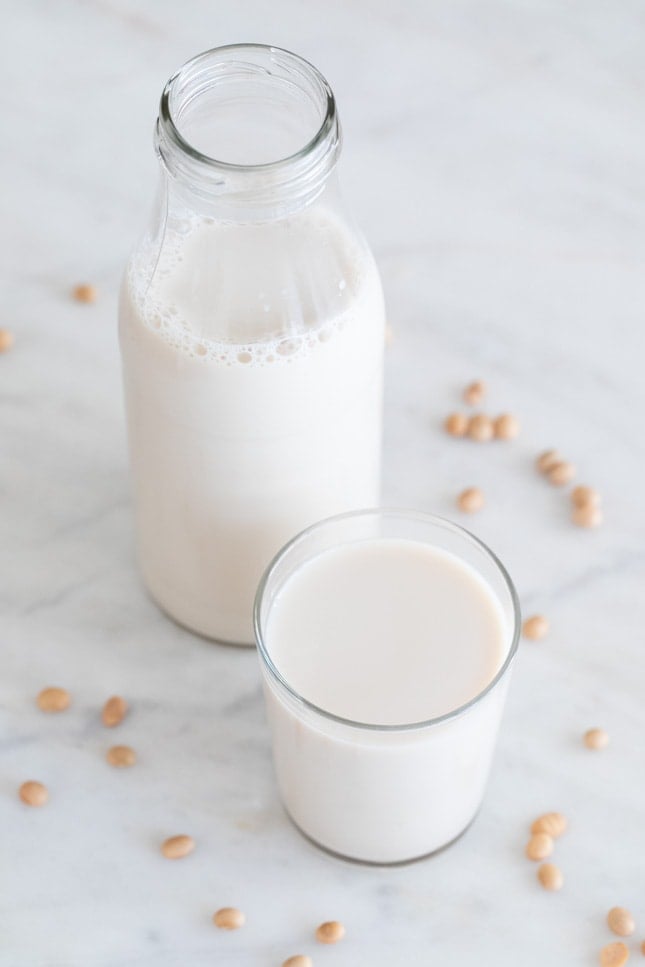 Soy milk is an excellent vegetable alternative to cow's milk and one of the most popular because it is the cheapest in supermarkets and also because its texture is more similar to cow's milk, making it ideal especially for cooking .
1/2

taza de habas de soja amarilla (

80 g

)

4

tazas de agua (

1

litro)

1/2

cucharadita de extracto de vainilla o un trocito de vaina de vainilla (opcional)

4

dátiles (opcional)
Instructions
Soak the soybeans overnight (Ideally, it should be soaked for about 12 hours).
The next day, strain the soybeans and remove the skins that have separated from the soybeans. This is not necessary, but the texture of the milk is better.
Whip the soy together with 3 cups of water (750 ml).
Strain the soy milk using a non-dairy milk maker bag, cheesecloth, napkin, or fine mesh strainer. The soy remains can be used to make vegetable burgers, cookies, to add fiber to your shakes, soups or vegetable creams, or for whatever comes to mind.
Add the milk along with another cup of water (250 milliliters) in a pot and turn the heat to maximum until it boils. Skim off any foam that forms with the help of a slotted spoon.
Cook over medium heat for 20 minutes, stirring occasionally.
When the milk is cold you can consume it as it is or add the vanilla and sweetener of your choice. Ideally, if you're using dates, whisk them together with the milk until fully blended.
You can eat right away or store leftovers in the fridge in an airtight container for about 3-5 days.
Notes
Ideally you should use yellow soybeans (there are more types).
Add more or less water depending on how concentrated they are. you like soy milk.
You can use any type of sweetener you want, liquid or granulated. Add it little by little until the milk is sweet enough for you.
Many packaged soy milks have a pinch of salt, but I like it better without salt.
You can flavor your milk by adding other ingredients such as cocoa powder or cinnamon.