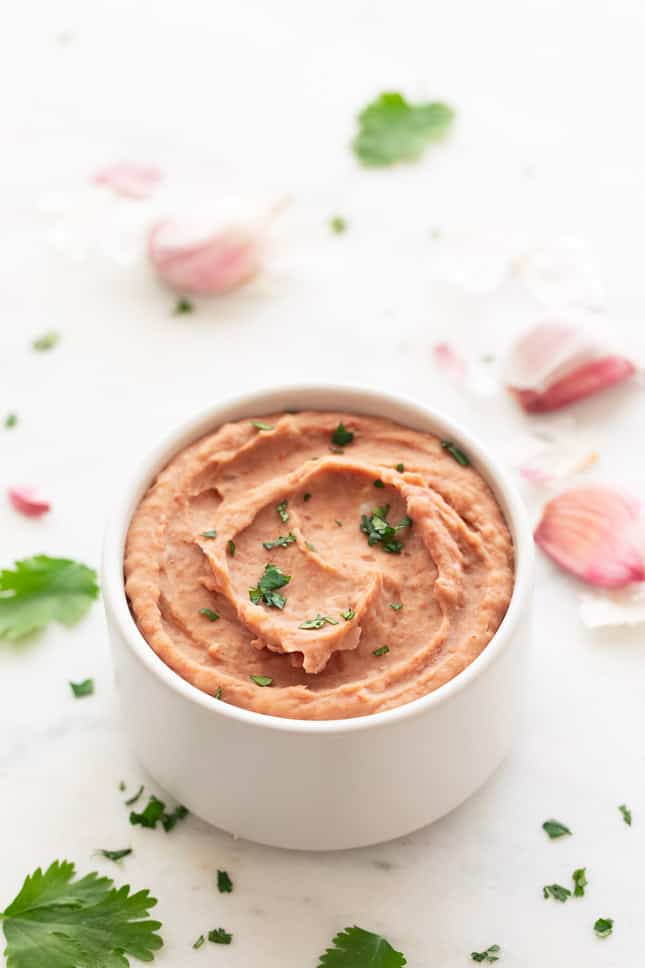 Refried beans are typical of Mexican cuisine and also very popular in the United States, since they are also part of Tex-Mex cuisine, although apparently they are also consumed in other Latin American countries.
1

cucharada de aceite de oliva virgen extra (opcional)

2

dientes de ajo, troceados

1/4

cebolla, troceada

1

y 1/2 tazas de alubias pintas de bote o cocinadas (

250 g

)

1/2

cucharadita de comino molido

1/4

cucharadita de sal

1/8

cucharadita de cayena en polvo (opcional)

1/4

taza de agua (

60

ml)
Instructions
Pour the oil into a pan and when When hot, add the garlic and onion. Cook over medium-high heat for about 5 minutes or until golden brown, stirring occasionally. If you don't use oil, you can replace it with a little water or vegetable broth.
Add the beans and spices (cumin, salt, and cayenne), stir, and cook over medium heat for 2-3 minutes, stirring occasionally.
Add the water and cook over medium heat for a further 5-10 minutes, stirring occasionally.
Finally, mash the beans using a potato masher, fork or hand mixer.
Serve immediately (I sprinkled some chopped coriander on top for garnish) or store leftovers in an airtight container in the fridge for about 4-5 days.
Notes
You can use any type of beans.
If you want to reduce the amount of sodium, wash the beans well and/or add less salt. li>