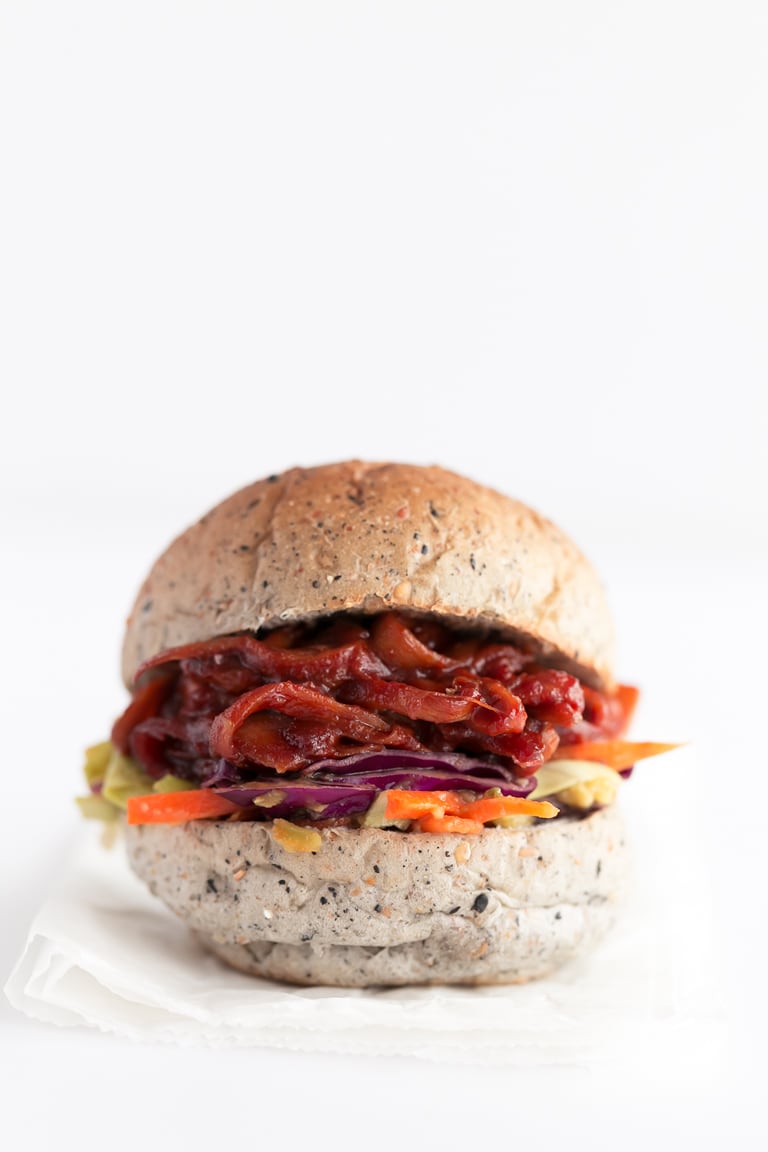 As I told you in the entry of the vegan coleslaw , I really wanted to make this recipe, but everyone uses green jackfruit to prepare it, which is hard to find in Spain.
200 g

ó 7 oz de setas, nosotros usamos 4 setas de cardo

1

cucharada de tamari o salsa de soja

1/2

cucharadita de ajo en polvo

1/2

cucharadita de pimentón dulce

1/8

cucharadita de pimienta molida

1/8

cucharadita de cayena en polvo

1/4

taza de salsa barbacoa (

4

cucharadas)
Ensalada de col vegana (opcional)

2

panes de hamburguesa, con o sin gluten
Instructions
First you have to chop the mushrooms with help of a fork or of the hands so that they are as you can see in the fourth photo. I use my hands because it's more comfortable.
Put the mushrooms in a pan with a little water or oil and sauté them over high heat until browned and loose all the water, stirring frequently.
Then add the tamari or soy sauce, the spices (garlic powder, paprika, pepper and cayenne), and the barbecue sauce , stir and cook for about 5 minutes over medium-high heat or until the sauce thickens. Remove from heat and set aside.
Toast the buns in a skillet, toaster, or in the oven (optional).
Spoon some vegan coleslaw first (optional) and then the sautéed mushrooms. It was enough for us for 3 hamburgers because our buns were small, but it would be enough for 2 normal hamburgers.
The ideal is to eat it fresh, but you can store the filling in the fridge in an airtight container for about 2-3 days.
Notes
Recipe inspired by Marlon Doll.
The ideal is to use the same mushrooms as us or similar ones so that they have a texture similar to the original pulled pork sandwich, but any type of mushroom will do.
Tamari or soy sauce can be substituted for salt.
Add your favorite spices.