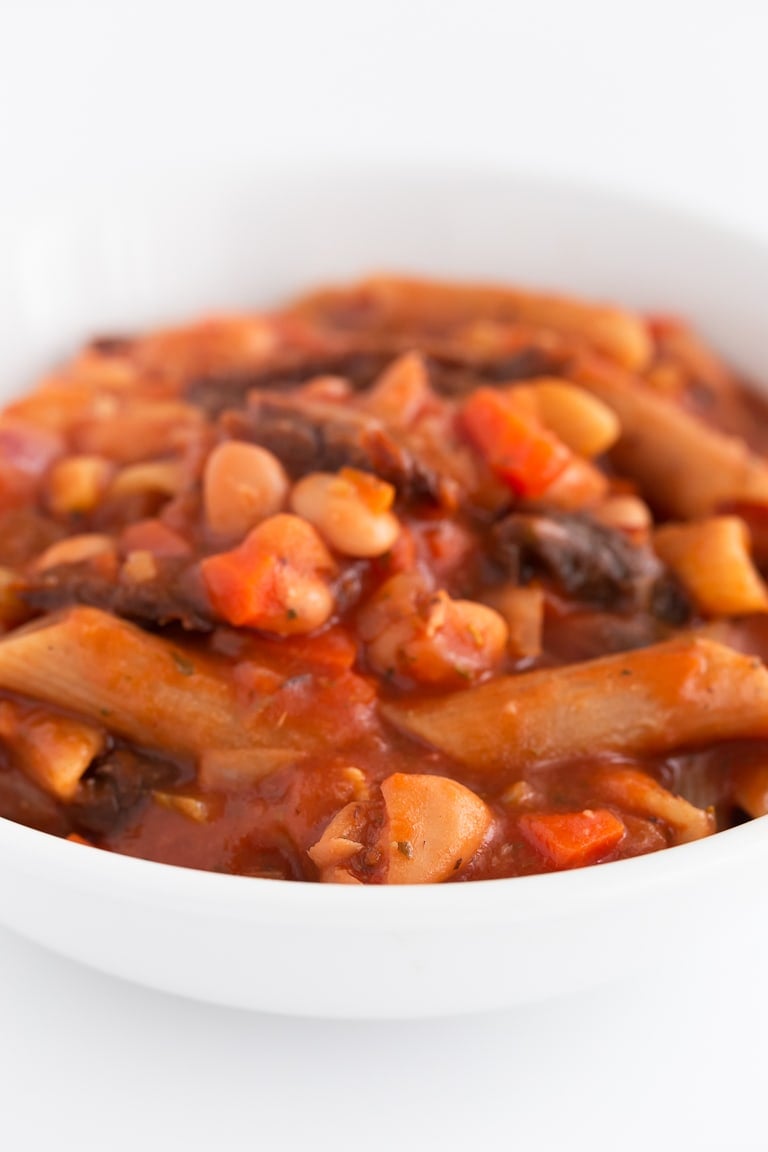 How are you? I am writing to you from Siem Reap (Cambodia) and my mouth is watering from remembering this pasta dish with beans that we prepared when we were in Thailand. We have already visited Singapore, Malaysia, Thailand and then we are going to Bali. Then we don't really know what we're going to do because although we love to travel, sometimes it's difficult to run the blog at the same time, so we're considering the option of coming back soon. span>
2

dientes de ajo, troceados

1/2

rama de apio, troceada

1/2

cebolla, troceada

1

zanahoria, pelada y troceada

6

tomates secos hidratados en agua o en aceite, troceados en juliana

1

bote de alubias pintas (

425 g

ó

15 oz

), sin el líquido, lavadas y escurridas

250 g

de pasta con o sin gluten (

8 oz

), nosotros usamos penne

2

y 1/2 tazas de caldo de verduras o agua (

625

ml)

1

taza de tomate triturado (

250

ml)

1/4

cucharadita de sal

1/8

cucharadita de pimienta negra molida

1

cucharada de orégano seco
Instructions
Place the vegetables and dried tomatoes in a pot with a little water or oil and sauté them over medium-high heat for about 5 minutes, stirring occasionally. Add more water or oil if needed.
Add the rest of the ingredients, stir and cook over high heat until it comes to a boil, then reduce to medium-high heat and cook until the pasta is done (about 10 minutes).
You can add more or less broth or water depending on how brothy you like this dish.< /li>
Leftovers can be stored in the fridge in an airtight container for 4-5 days.
Notes
Recipe inspired by Giallo Zafferano.
Other types of beans can be used without problems, as well as other vegetables, herbs and spices.
Tomatoes can be bought already hydrated in oil or dry and hydrate them in hot water. We leave them for at least 20 minutes, although the more time passes, the softer they will be.