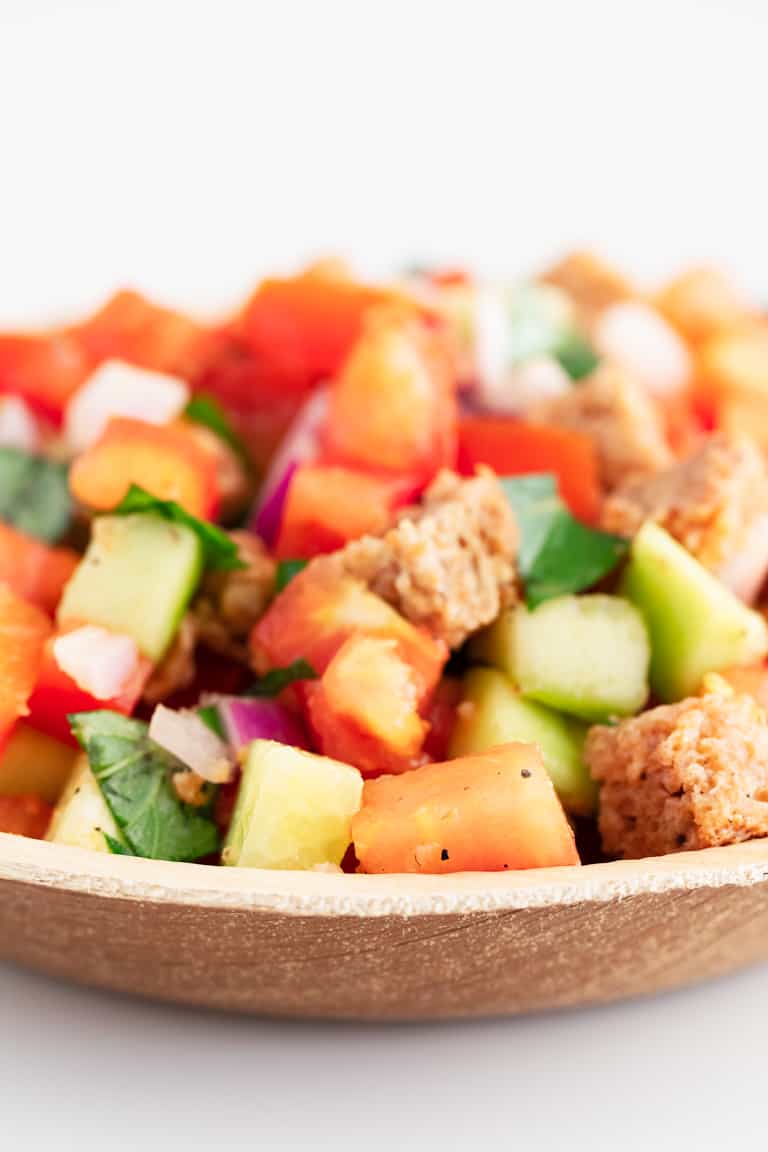 Panzanella is an Italian salad, specifically from Tuscany, which is prepared with tomato, bread and other typical ingredients of the gazpacho. There are different versions that include more or fewer ingredients, plus the classic version is vegan.
4

rebanadas de pan integral (con o sin gluten), mejor si es duro

4

tomates de rama

1

pepino pequeño, pelado

1/2

cebolla morada

1

cucharada de aceite de oliva virgen extra (ver notas para una alternativa sin aceite)

1

cucharada de vinagre de manzana

1/4

cucharadita de sal

1/4

cucharadita de pimienta negra molida

20

hojas de albahaca fresca, troceadas
Instructions
Toast bread in toaster, pan or oven. I used a grill. Chop and set aside.
Chop all the vegetables and put them in a bowl.
Add the rest of the ingredients, stir until well combined, and serve directly.
This salad is best fresh, but you can keep it in an airtight container in the fridge for 1-2 days.
Notes
You can add other ingredients like lettuce, celery, garlic, olives, or whatever comes to mind.
If you don't use oil, you can substitute the dressing by me tahini dressing.
Me I used 100% whole wheat bread to prepare this recipe, but if you want you can use any other type of bread with or without gluten. If you want to prepare it at home, I encourage you to take a look at my rye and spelled bread and my gluten-free bread .