Mine with falafel was love at first sight. From the moment I tried it, it became one of my favorite pulse recipes and it has saved my life on many occasions when I didn't have vegan restaurants nearby because there are Turkish restaurants in all or almost all cities. I like it so much that it is already the fourth falafel recipe that I share, the other four are: falafel a>, baked falafel and falafel waffles. I leave you the links in case you dare to prepare one.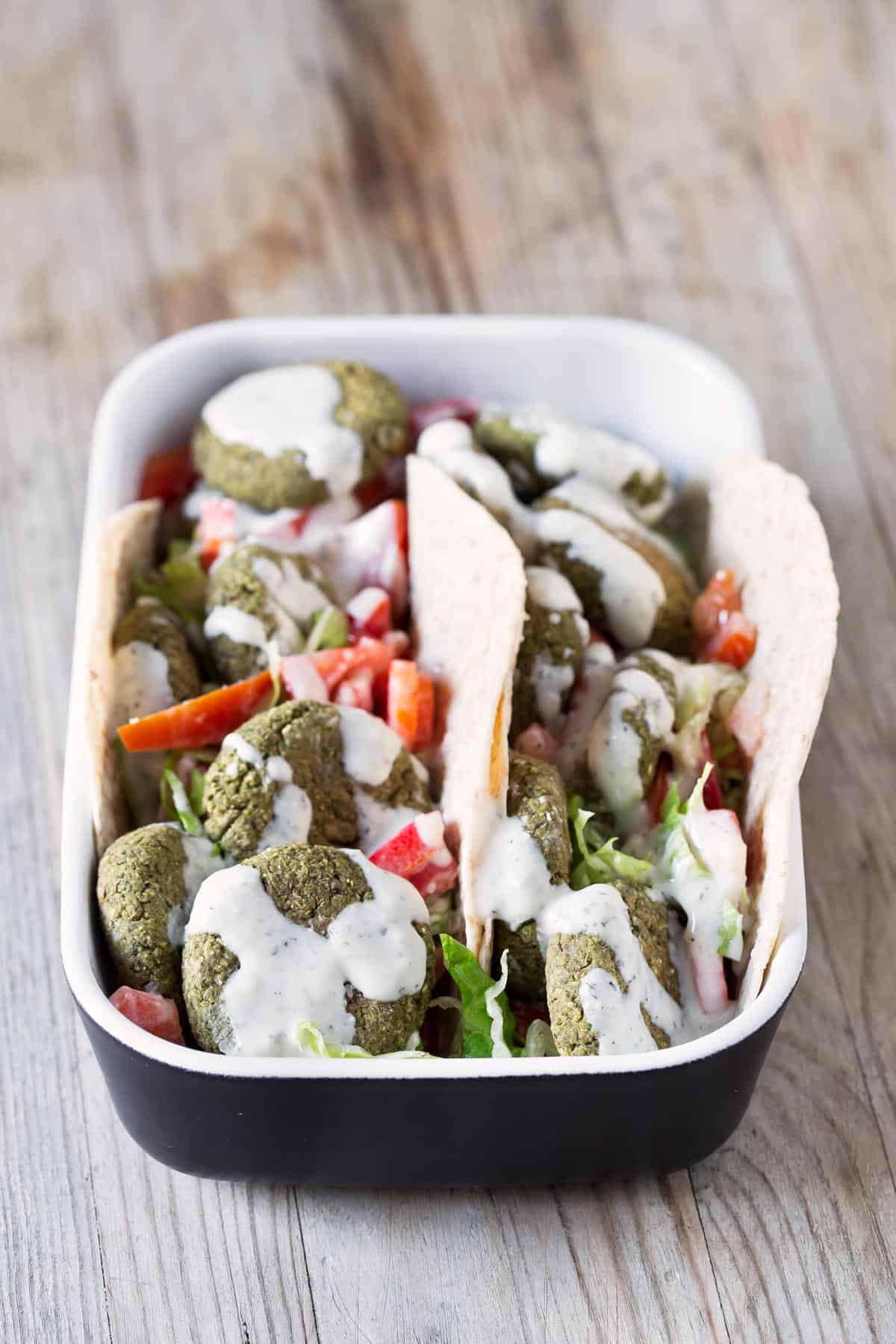 2

tazas de lentejas cocinadas o de bote (

350 g

)

1

puñado de cilantro fresco

1

puñado de espinacas

1

diente de ajo

1/2

cebolla

2

cucharaditas de comino molido

3/4

cucharadita de sal

1/4

cucharadita de pimienta negra

1

taza de harina de avena o copos de avena molidos (

120 g

)
Instructions
Preheat the oven to 200ºC or 400ºF.
Put all the ingredients, except the oatmeal, into a food processor or blender and blend until well combined.
To make the oatmeal, we beat oatmeal in a blender.
Add the oatmeal and beat again. We need to get a dough that is not too sticky, but not too hard either. You may have to add more or less flour than we do.
We make balls with our hands and flatten them to form a disc.
Bake 10 minutes on one side, flip them over and bake another 5-10 minutes until golden brown on both sides.
We can serve them with vegan yogurt sauce or vegan yogurt sauce without oil, pita bread or tortillas, vegetables (we use lettuce, red pepper, tomato and carrot) or with your favorite ingredients.
Notes
* We grind oatmeal in the blender. If you use oat flakes with a gluten content of less than 20 ppm or 20 mg/kg, it will be a recipe suitable for coeliacs as indicated in CE regulation 41/2009. However, people with severe sensitivity to gluten can experience symptoms below 20 ppm, so they should consider their tolerance level.