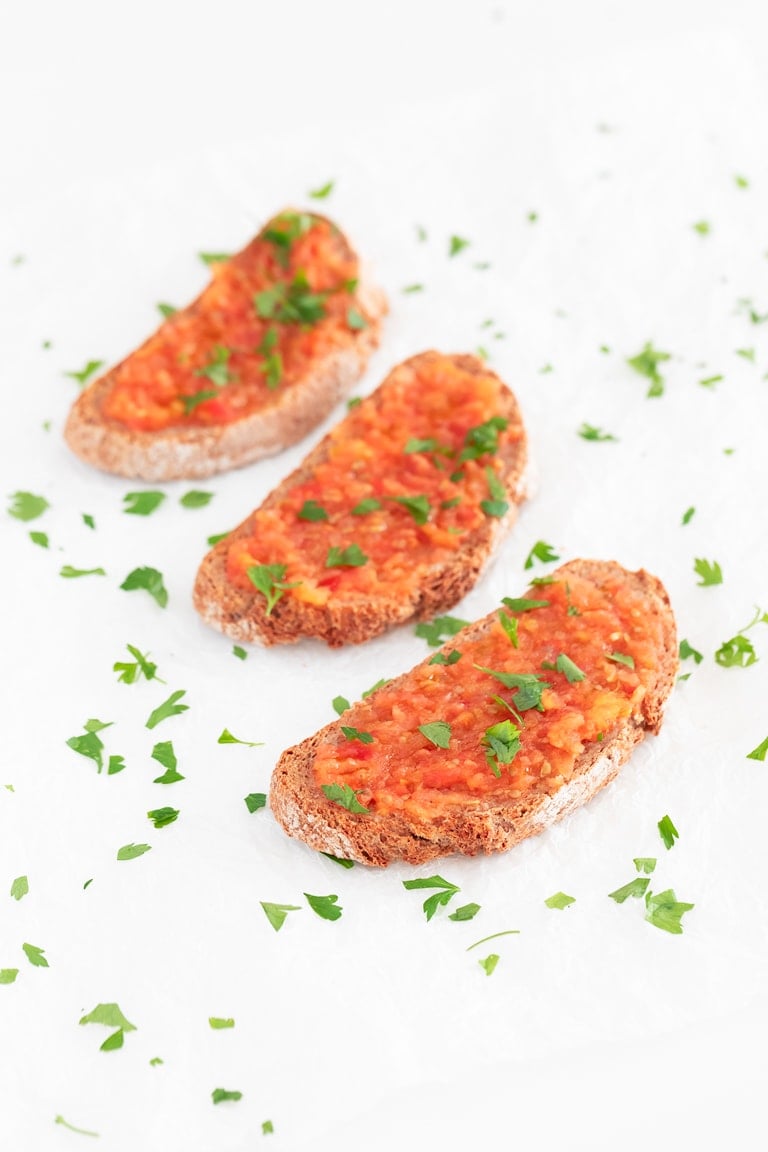 Bread with tomato is one of the most popular breakfasts in Spain. There are several ways to prepare it, depending on the area and the tastes of each one. The original recipe seems to have been made with stale bread, but nowadays it's usually made with toasted bread.
4

rebanadas de pan integral

1

diente de ajo, pelado

2

tomates en rama

1/4

cucharadita de sal
Aceite de oliva virgen extra al gusto (opcional)
Perejil picado para decorar (opcional)
Instructions
Toast the bread in a toaster or skillet .
Cut the garlic in half lengthwise and spread it on the bread slices to infuse its flavor. A clove of garlic can be used to prepare about 4-8 slices.
Cut the tomatoes in half and grate them using a grater, discarding the skin. If you want you can also spread the tomatoes directly on each slice and discard the skin anyway or use a hand blender< /a> and blend them whole.
Put the tomato puree in a bowl, add the salt and stir.
Spread the tomato puree on each slice, add a splash of oil (I use 1/4-1/2 teaspoon per slice, but it's optional) and decorate with a little chopped parsley on top (optional) .
Serve immediately. If you want you can store the tomato puree in an airtight container in the fridge for about 3 or 4 days.
Notes
I used 100% whole wheat bread to prepare this recipe, but if you want you can use any other type of bread with or without gluten. If you want to prepare it at home, I encourage you to take a look at my rye and spelled bread and my gluten-free bread .
The clove of garlic can be used to prepare any other recipe, such as sautéing it in water or oil along with other vegetables and adding your favorite spices, herbs and/or sauces.

< li>Other types of tomato can be used, although depending on the size you will need more or less quantity.

The nutritional information does not include the clove of garlic (since it is not eaten), nor the parsley because it is optional and is calculated using 1 teaspoon of oil for the 4 slices.