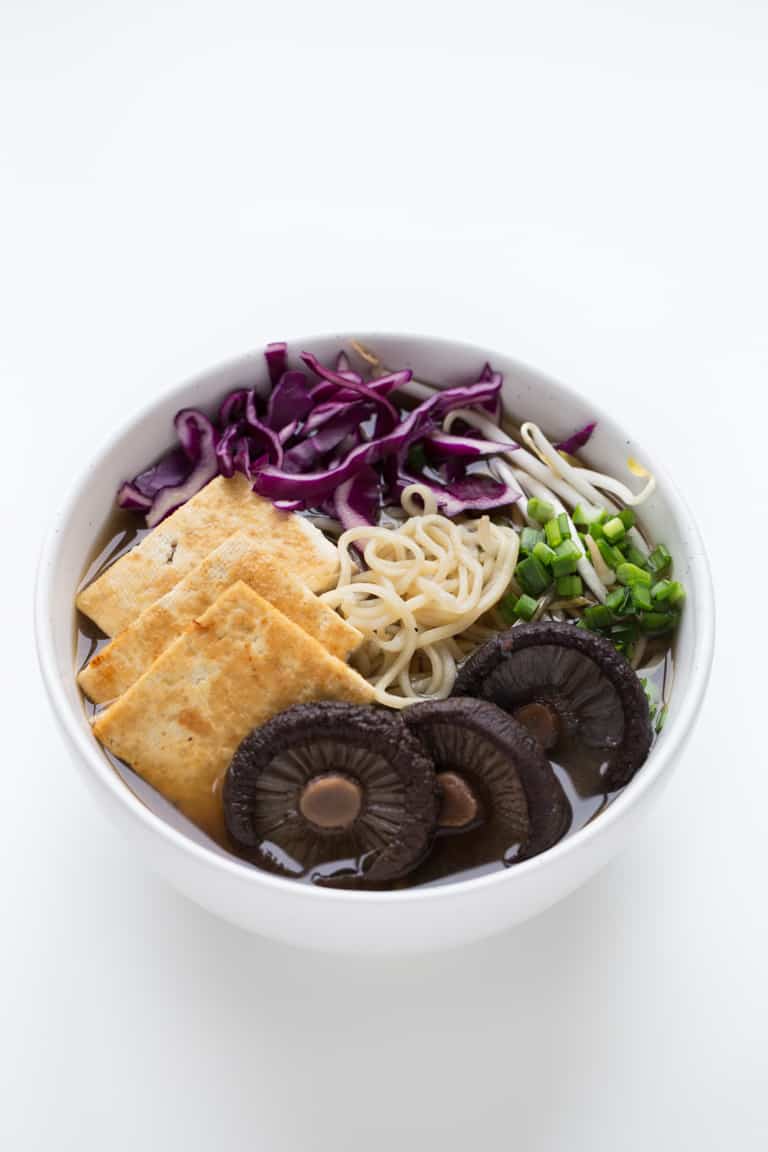 had this recipe on my to-do list for a long time and I never dared to try it because I thought it would be very difficult to prepare and I couldn't be more wrong. It is a very simple, nutritious and comforting dish, in addition, you can use the ingredients that we have in the fridge both to make the broth, and to add on top.
2

dientes de ajo

1

cebolla, nosotros usamos cebolla morada

Un trozo de jengibre fresco de unos 5 cm (2 pulgadas)

30 g

de setas shiitake deshidratadas (1 onza)

6

tazas de agua (1,5 litros)

1

cucharada de tamari o salsa de soja

1

cucharada de miso

1

cucharada de bicarbonato (opcional)

200 g

de fideos (7 onzas), nosotros usamos fideos para ramen, pero cualquier tipo sirve, incluso se pueden usar espaguetis

275 g

(10 onzas) de tofu firme (opcional)

Lombarda, cebollino y brotes de soja al gusto para servir (opcional)
Instructions
Place the peeled garlic cloves, chopped onion, peeled and chopped ginger, and dried shiitake mushrooms in a pot (you can also substitute any type of fresh mushroom).< /span>

Add the water and when it starts to boil, lower over medium heat and cook for about 30 minutes. If you don't have time, you can make a faster version in 15 minutes or even leave it for an hour or more. The longer it is, the more flavor it will have, although you may need to add more or less water.

< span style="font-weight: 400">When the soup is ready, remove it from the heat and strain it to discard the vegetables. We keep the dried mushrooms to serve the soup, but if you want you can also save and use the rest of the vegetables.

Pour the liquid back into the pot, add the soy sauce and miso and stir until the miso dissolves completely.

While you are making the soup you can prepare the noodles. We cook them in plenty of hot water and a tablespoon of baking soda (we add it when the water starts to boil) for the time indicated on the package. Strain them and reserve them.

Chop the tofu and cook it on the grill ( we don't use oil) over high heat until browned on both sides.

Serve the noodles and soup in individual bowls or bowls and decorate with your favorite toppings. We add the tofu, the mushrooms from the broth, bean sprouts and chopped red cabbage and chives.

You can store the broth in the fridge in a container airtight for 4 or 5 days. Pasta and toppings are best prepared fresh, although you can store pasta and tofu in separate containers for 4-5 days as well.
Notes
Any vegetables can be added to the soup.
You can lightly fry the vegetables in oil before cooking or add a dash of oil to the soup.
Instead of water you can use vegetable broth so that the soup has more flavor, although I prefer to use water because it comes out very tasty and is simpler and has less sodium.
You can use noodles with or without gluten . There are noodles made with buckwheat flour, they are not specific for making ramen, but they are for other Asian recipes and they are very tasty.