You can also take the cookies without the filling, they are to die for. As you can see in the photos, our cookies are somewhat lighter than the traditional Oreos, that's because we haven't added as much cocoa because we like it that way. The Oreos are delicious but you have to add too much sugar so that they are not bitter (at least for our taste), but if you are a fan of cocoa or if you do not mind adding more sugar (or sweetener) you can taste as you go, while you make the dough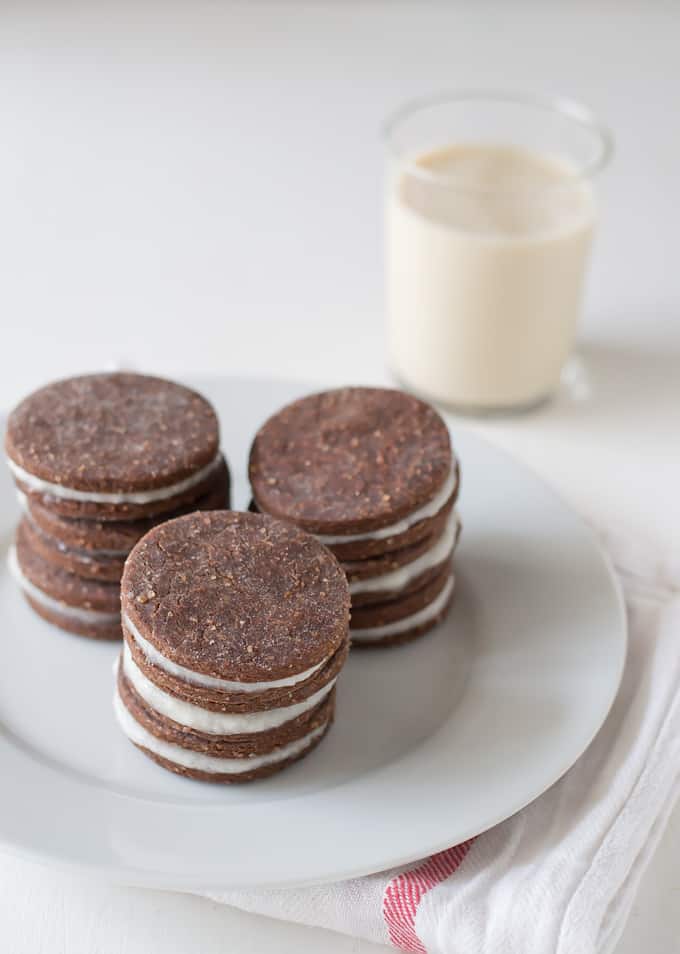 El relleno es crema de coco con un poquito de extracto de vainilla. Desde que la descubrimos estamos enganchados y es un gran sustituto para la nata montada. También utilizamos esta crema en nuestra receta de tarta de crepes, ¡es muy adictiva!
200

gramos de harina de arroz

20

gramos de cacao en polvo sin azúcar

50

gramos de azúcar moreno

1/4

de cucharadita de sal

1/2

cucharadita de bicarbonato

2

cucharaditas de extracto de vainilla (opcional)

50

gramos de aceite de oliva virgen extra

3

cucharadas de leche de soja

3

cucharadas de sirope de agave (o miel)

100

gramos de crema de coco
Instructions
In a bowl mix the dry ingredients ( flour, cocoa, sugar, salt, and baking soda).
In another bowl, mix the liquid ingredients (1 teaspoon vanilla extract, oil, milk and agave syrup, which you can substitute for honey if you are not vegan).
Mix the dry ingredients with the liquid ones and when they are more or less integrated, add the dough on a floured surface. Knead until there is a ball that does not stick to your hands. Leave in the fridge for at least 30 minutes.
Take the dough out of the fridge and roll it out with the help of a rolling pin. It is more practical if you take portions of the dough, instead of stretching it all at once.
With a cutter we shape our cookies and place them on parchment paper oven on a tray, which we will introduce in the previously preheated oven, with heat up and down, in the central part, at 170 degrees, for about 12 minutes. You have to be careful because the time may vary depending on your oven.
For the coconut cream we have used a 400 gram can of coconut cream. We left it overnight in the fridge and the next morning we opened it and separated the top layer that had solidified (it's not completely solid, it's more of a cream). We add a teaspoon of vanilla extract and mount with electric or manual rods until the cream does not move when turning the bowl. To assemble it and be successful in the attempt, we recommend that both the bowl and the rods are cold (put them in the fridge for a while beforehand).
When the cookies are completely cold you can take one, add a teaspoon of coconut cream (or the amount you prefer) and place another on top. Repeat until all the cookies are finished.