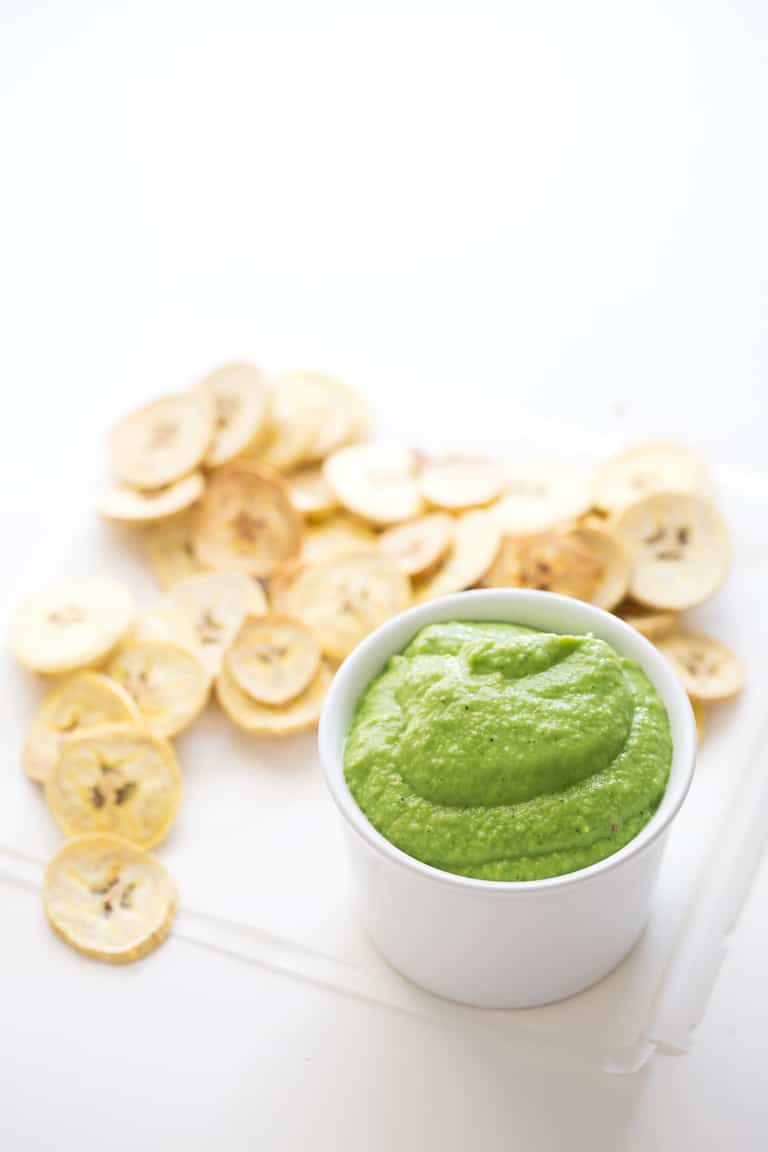 Who doesn't like guacamole? It is one of the most popular dips, a very healthy option if we make it at home and prepare it in no time. If you are an avocado lover like me (my only food craving was avocados when I was about five years old), you have to try guasacaca, it is even tastier than guacamole (yes, I'm serious).
Para la guasacaca:
1

diente de ajo

1

aguacate

1

pimiento verde grande o 2 pequeños

1/4

de cebolla

1

puñado de perejil fresco

1

puñado de cilantro fresco

1

cucharada de tahini

1

cucharada de vinagre de manzana

1/2

cucharadita de sal marina

1/8

cucharadita de pimienta negra molida
Una pizca de cayena en polvo (opcional)
Para los chips de plátano:
3

plátanos macho o verdes
Instructions
Guasacaca:
Put all the ingredients in a blender or food processor and blend until well combined.
Guasacaca can be served hot or cold , it is a matter of taste. I prefer to eat it fresh.
Guasacaca can be stored in the fridge in an airtight container for about 3 days.
Banana chips:
Preheat the oven to 200ºC or 400ºF.
Peel the bananas, cut them into thin slices and place them on a baking tray lined with parchment paper.
Bake for 15 minutes on one side, then another 5 minutes on the other or until crisp.
We can keep the plantain chips in an airtight container at room temperature for about 3 days .
Notes
You can use garlic powder instead of fresh garlic, lemon juice instead of vinegar, other aromatic herbs or vegetables that you like the most.

< li>Oil or another healthy fat can be used instead of tahini.