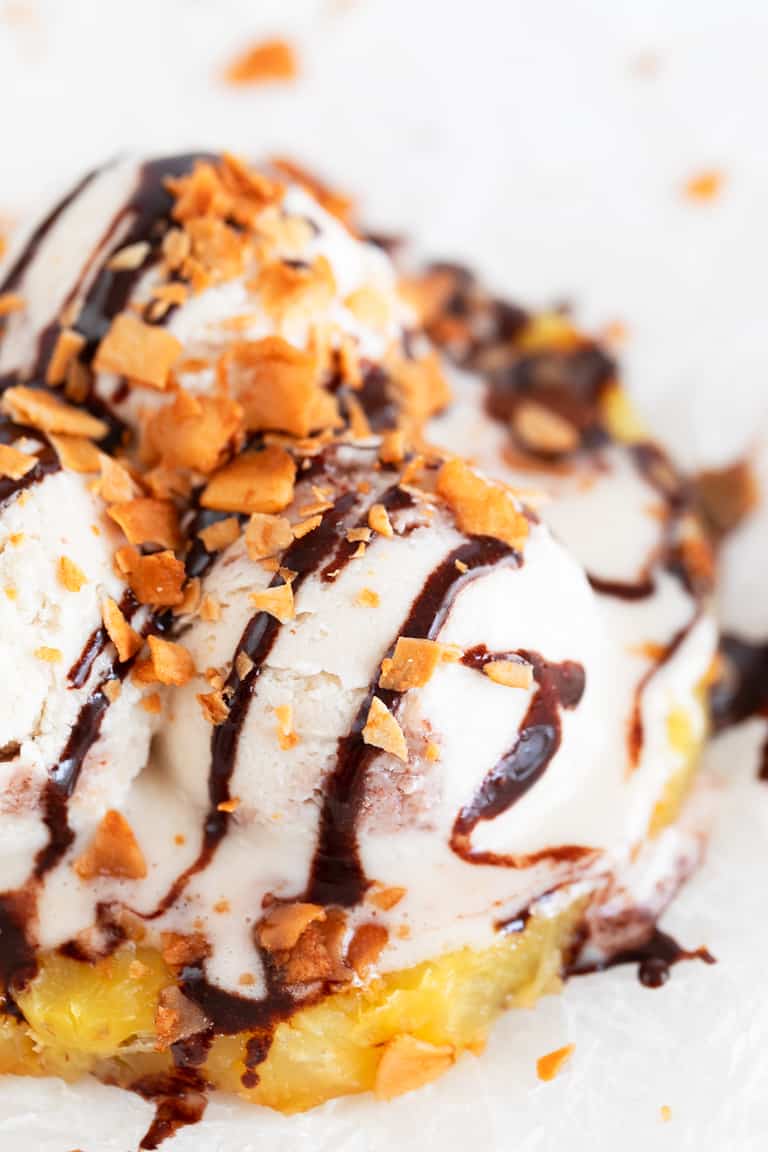 This dessert is out of this world. It has been the discovery of the summer and I regret not having tried it before. The combination of the hot pineapple, with the ice cream, plus the chocolate syrup and the crunchy touch provided by the coconut chips, make it a spectacular recipe.
4

rodajas de piña
Chips de coco (opcional)
Instructions
You can use fresh or canned pineapple. I prefer fresh pineapple, but it is a matter of taste. Fresh pineapple slices are usually larger than canned pineapple slices. If you're using fresh pineapple, you can remove the core of the pineapple, which is usually hard or not, whichever you prefer.
Cook the pineapple slices in a grill, grill, or pan until browned on both sides. No need to add oil.
Serve each pineapple slice with ice cream (add more or less depending on the size of your pineapple slices and how much ice cream you want to eat), chocolate syrup and coconut chips to taste.
The ideal is to have this dessert freshly made so that the pineapple is hot and the ice cream does not melt.
Notes
You can make the ice cream and chocolate syrup at home or buy it already made. You can also add ice cream or other flavored syrups.
If you can't find coconut chips, you can substitute chopped nuts.
In the photos, the slice of pineapple has 3 scoops of ice cream , but for day-to-day use I personally prefer to add just one, since although my vanilla ice cream is healthier than the packaged ones, it shouldn't be abused either, as it is a high-fat food.
The nutritional information is calculated with a slice of natural pineapple, a scoop of ice cream, a teaspoon of chocolate syrup and 1/2 teaspoon of coconut chips per serving.