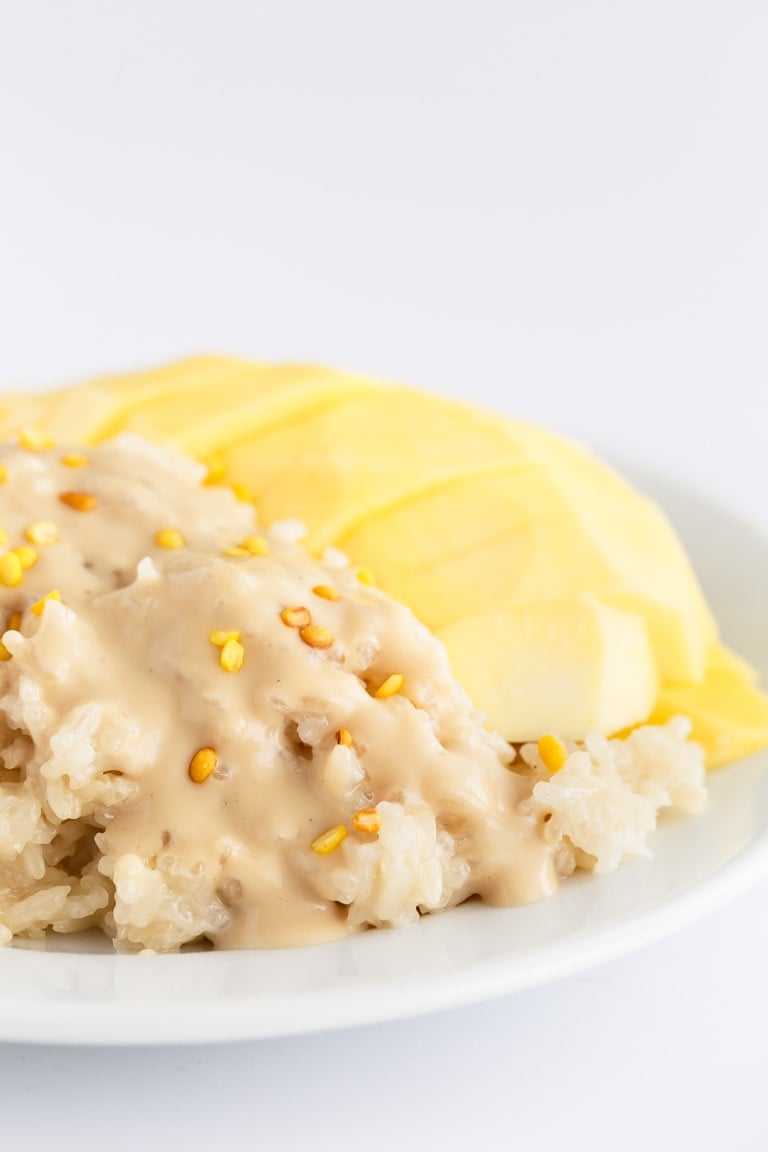 This recipe caught my attention when I arrived in Thailand because it combines 3 ingredients that I love: rice, coconut and mango. It's kind of like a Thai version of rice pudding, plus it can be made with easy-to-find ingredients if we make a couple of simple substitutions.
1

taza de arroz glutinoso o de cualquier tipo de arroz, sin cocinar (

185 g

)

1

taza de leche de coco (

250

ml)

1/4

taza de azúcar de caña, coco o moreno (

4

cucharadas)

1/4

cucharadita de sal

1

–

2

cucharaditas de maicena +

1

cucharada de agua
Semillas de mungo para decorar (opcional)

4

–

8

mangos
Instructions
The traditional recipe uses sticky rice, but you can use whatever you have on hand. Soak it in double the amount of water (2 cups or 500 ml) for 30 minutes.
In Thailand they steam it, but since we didn't have a steamer handy, We put the rice and the water in a saucepan and when it started to boil, we partially covered it and left it cooking over low heat until the water was consumed and the rice was ready (about 10-15 minutes, but the time can vary depending on the temperature). of the rice you use). Add more water if needed.
While the rice is cooking, you can make the sauce. Put the coconut milk, sugar and salt in a saucepan and cook over medium-high heat until hot and the sugar has completely melted. Then, add the cornstarch dissolved in water, stir and cook until thick. Add more or less cornstarch depending on how thick you want your sauce, we usually add 1 and 1/2 to 2 teaspoons.
When the rice is done, add it In a bowl, add half of the sauce and stir until perfectly integrated. The other half is sprinkled on top at serving time.
The classic recipe uses roasted mung seeds, so we buy them raw and roast them in a pan until golden brown, but you can omit or substitute sesame seeds or any other seeds you have on hand.
To serve the dish, add the rice, on the side the peeled and chopped mango (1/2 or 1 mango per serving), a little sauce on top and finally the mung seeds.
It's better freshly made, but you can store the rice and sauce in airtight containers in the fridge for 3-4 days. If the sauce is too thick, you can add more milk or water. The mango is best opened just before serving.
Notes
Glutinous is ideal, but any rice will do. Although glutinous rice is long-grain, it is sticky rice and when cooked the grains stick together, so I think that if I couldn't find it, I would opt for short-grain rice, because it usually has a higher starch content. .
We use coconut milk, not coconut drink. Coconut milk usually comes in a can, although there are also tetra briks, it is much thicker than coconut milk and also does not usually contain sweeteners or as many additives.
Use the sweetener you want.< /li>
Instead of cornstarch, other thickeners or starches can be used.
Mung seeds can be substituted for sesame or other seeds.
Yes If you like your rice with more sauce, you can make a little more at a time and add it on top.