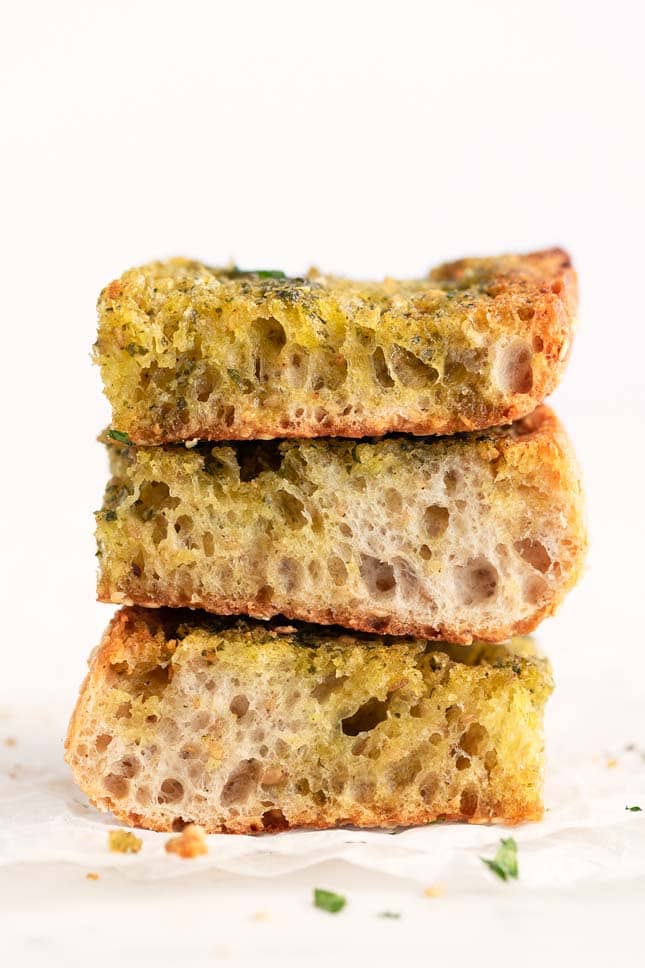 Garlic bread has always been my favorite appetizer in Italian restaurants. The bad thing is that some have cheese and others are made with butter instead of oil, although there are places that luckily have vegan options without cheese or butter.
4

dientes de ajo

1/2

taza de aceite de oliva virgen extra (

125

ml)

2

cucharadas de perejil fresco, troceado

1/4

cucharadita de sal

1/8

cucharadita de pimienta negra molida

450 g

de pan (

1

libra)
Instructions
Preheat the oven to 200ºC or 400ºF.
Place the garlic, oil, parsley, salt and pepper in a food processor or blender and blend for a few seconds. I like to leave a few bits of garlic and parsley, but if you want you can beat the mixture more.
Cut the bread lengthwise and spread the previous mixture on both pieces.
Bake on a baking sheet for about 15-20 minutes or until the bread is golden brown.
Cut up and serve immediately or store leftovers in the fridge covered or in an airtight container for 4-5 days. You can reheat the bread, but it's also great cold. The ideal is to drink it freshly made.
Notes
I used a 1 pound (450 g) loaf of bread, but you can also use smaller loaves and make several.
I have never tried to make garlic bread with gluten-free bread, but here is my recipe for gluten-free bread in case you want taste. Baking time may vary, just bake until golden brown.
Recipe adapted from Laura in the kitchen< /a>

.