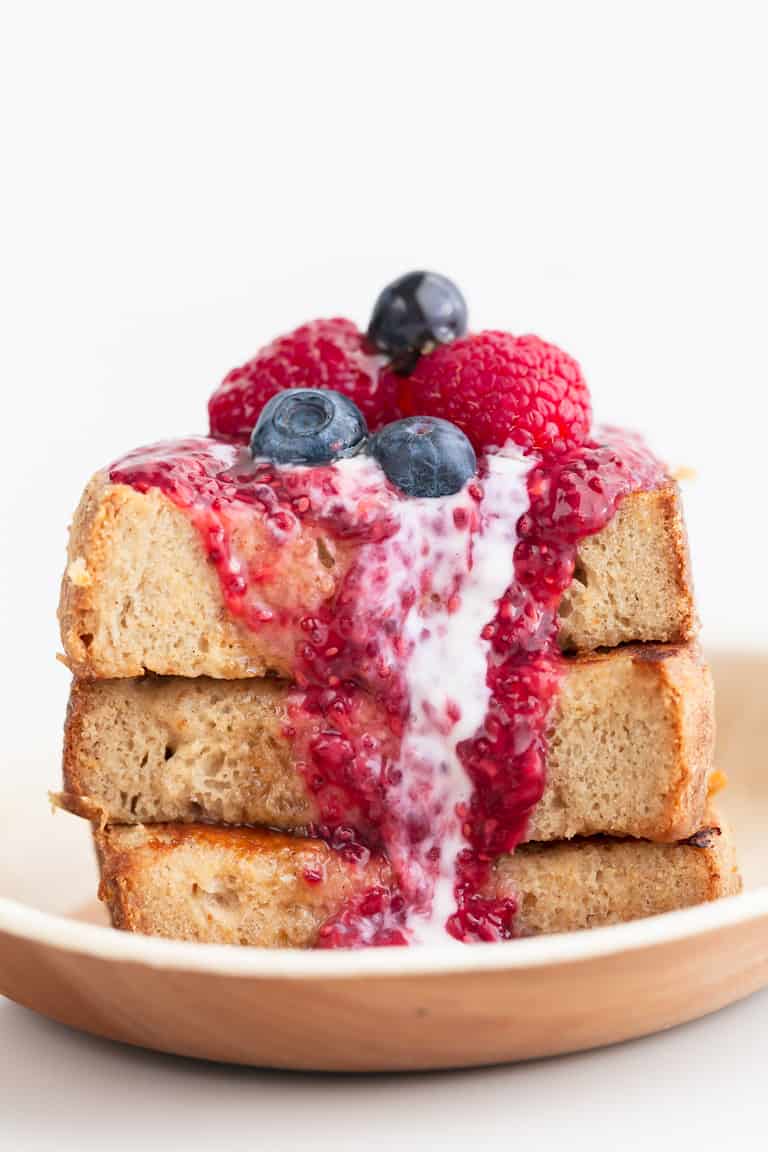 French toast (or "French toast") in English is similar to torrijas Spanish and especially very popular for breakfast, although I like them more for dessert.
1

y 1/2 tazas de leche vegetal (

375

ml), nosotros usamos leche de avena

2

cucharadas de semillas de lino

2

cucharadas de sirope de arce

1/2

cucharadita de extracto de vainilla (opcional)

1/4

cucharadita de canela en polvo

1/8

cucharadita de sal

6

–

8

rebanadas de pan, mejor si es del día anterior (ver notas)
Aceite de coco (opcional)
Instructions
Beat all ingredients (except bread and coconut oil) in a blender until fully incorporated and let the mixture rest for about 5 minutes at room temperature.
Cut the bread into 2-slices, 5 cm or 1 inch thick.
Pour the mixture into a deep bowl and roll the toast on both sides until well coated. Depending on the bread you use, you will have to leave it for more or less time (the bread has to weigh more once battered, but be careful that it does not get too soft and break).
Grease a griddle or frying pan with a little coconut oil (optional) and when hot, cook the toasts over medium heat for about 5 minutes on each side or until they are completely golden brown.
Serve with your favorite ingredients. We add maple syrup, red fruits, chia seed jam a> and soy yogurt.
You can store them in the fridge in an airtight container for 3-4 days.
Notes
Depending on the type of bread you use, how hard it is or how juicy you like your French toast, you will get more or less.
There are people who like them very soft and there are also those who prefer them soft on the outside, but that the center continues to have the consistency of bread, you choose.
You can use any sweetener or oil.< /li>