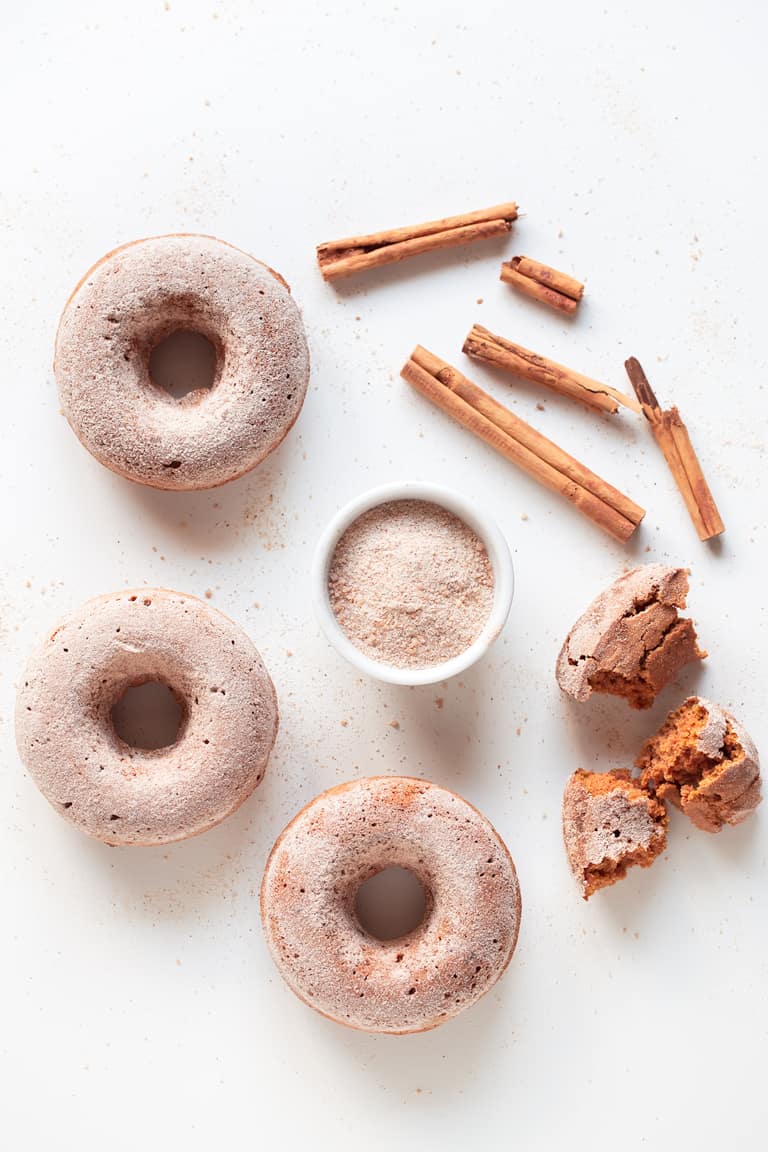 Autumn is the perfect time to make all kinds of recipes using pumpkin. Before having the blog I had never considered making something sweet, but they come out very tasty and when using pumpkin it is not necessary to add so much sugar.
1/2

taza + 2 cucharadas de harina de avena (

80 g

)

1/2

taza + 2 cucharadas de harina de trigo sarraceno (

75 g

)

1/4

taza de panela o azúcar de coco o moreno (

50 g

)

1

cucharadita de pumpkin pie spice

1/2

cucharadita de bicarbonato

1/2

taza de leche de coco de lata (

125

ml)

1/4

taza de puré de calabaza (

65 g

)

1

y 1/2 cucharaditas de vinagre de manzana
Instructions
Preheat the oven to 200ºC or 400ºF.
Place the oatmeal, buckwheat flour, panela or sugar, pumpkin pie spice, and baking soda in a bowl and stir.
Add the coconut milk, pumpkin puree, and vinegar and stir again until all ingredients are well combined.
You can grease the donut pan with a little coconut oil so that the donuts don't stick, although if it's non-stick or non-stick it's not necessary.
Distribute the mixture between the holes in the mo lde. We got 6 donuts.
Bake for about 15 minutes or until golden brown. Take them out of the oven and let them cool for at least 10 minutes before unmolding.
Once cool, we decorate them with panela powdered with cinnamon. Simply mix a couple of tablespoons of panela or any other type of sugar with 1/2 teaspoon of cinnamon powder and spread the mixture on the donuts. We beat the panela with the cinnamon in a glass blender to have a finer texture, but it is optional.
You can store the donuts in the fridge in a container airtight for 4 or 5 days.
Notes
If you use oat flakes with a gluten content of less than 20 ppm or 20 mg/kg, it will be a recipe suitable for coeliacs as indicated by the CE regulation 41/2009. However, people with severe gluten sensitivity can experience symptoms below 20 ppm, so they should consider their tolerance level.
Oatmeal can be purchased pre-made or made grinding oats in a blender.
You can use any type of flour, although you will have to adjust the amount of milk.
If you can't find the pumpkin pie spice or don't want make it at home, you can simply add a little cinnamon to taste.
If you don't like coconut don't worry because the taste of milk is not noticeable. As it is a recipe without oil, the ideal is to use this type of milk because it has a higher fat content, although you can try using another type of vegetable milk (better if it has a higher fat content like the one in soy or the one from almonds).