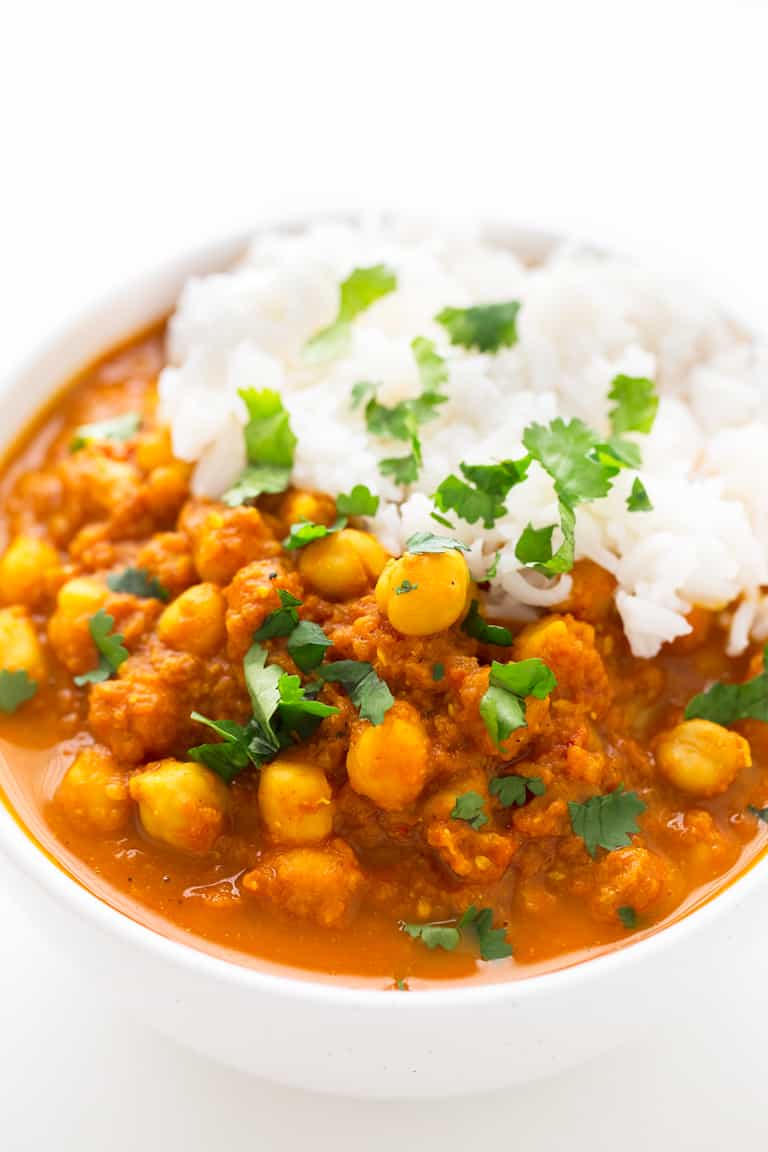 Chickpeas are the type of legume that I like the most because with them you can make hummus and falafel, two of my favorite dishes and also other delicious recipes such as chana masala.
4

dientes de ajo

1

cebolla

1

trozo de jengibre fresco de 1 cm ó 1/2 pulgada

2

latas de tomates troceados (

800 g

ó

28 oz

)

2

cucharadas de tahini

1

cucharada de garam masala

1

cucharada de cúrcuma

1

cucharada de comino molido

1

cucharadita de sal

1/8

cucharadita de cayena en polvo

1/8

cucharadita de pimienta negra molida

2

botes de garbanzos (

800g

ó

28 oz

)
El zumo de 1/2 limón
Cilantro al gusto (opcional)
Instructions
Add the garlic, the chopped onion and place the ginger in a food processor or blender and blend for a few seconds until a paste is obtained (see photo).
In a saucepan add the garlic, onion and ginger mixture and cook over medium-high heat for 5 minutes, stirring occasionally.
Add the canned tomatoes, tahini and spices and cook for about 10 minutes . The ideal is to put a lid so that the tomato does not splash.
Strain the chickpeas, wash them and put them in the pot. Cook for another 10 minutes (also with the lid on).
Remove from the heat, add the lemon juice, stir and serve with cooked basmati rice and a little cilantro on top (optional).
We can keep the chana masala in an airtight container in the fridge for about 4 days.
div>
Notes
If you prefer a quicker and simpler version, you can use garlic, onion and ginger powder to taste instead of fresh.
Instead of canned tomatoes you can use fresh tomatoes (although in that case you may have to add a little water), crushed tomato or even tomato sauce.
Tahini can be removed or oil substituted. If you don't mind taking oil, you can also fry the garlic and onion.
The garam masala can be bought in spice shops and herbalists, but if you can't find it you can make your own homemade mixture (< a href="https://es.wikipedia.org/wiki/Garam_masala" target="_blank" rel="false noopener">here you can see the ingredients) or even use curry powder, it will not be same, but it will be tasty.
Instead of cayenne powder, you can use any other chilli or fresh or dried chili to taste. Add more or less depending on how spicy you like it.
Salt is a little to taste, add more or less depending on how salty you like the food or the amount of sodium you can or want to drink.