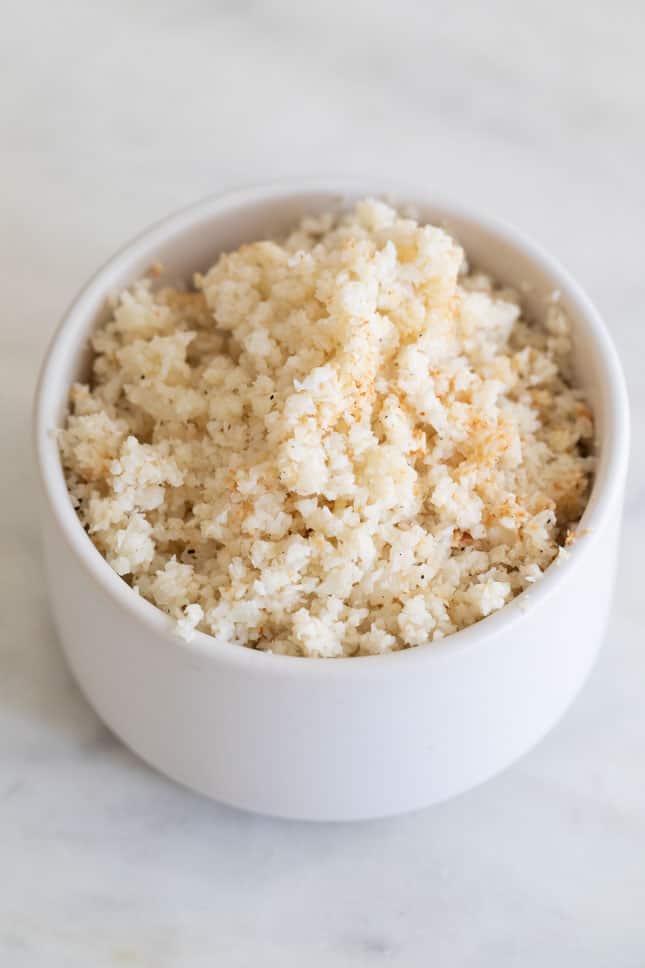 Cauliflower rice is wonderful. Oddly enough, it's very popular and can be used to replace rice in any recipe. Plus, it's a fun and delicious way to get more vegetables into your diet.
1

cabeza de coliflor grande
Ingredientes opcionales:
1

cucharada de aceite de oliva virgen extra

1/4

cucharadita de sal

1/8

cucharadita de pimienta negra molida
Instructions
Wash the cauliflower, remove the leaves and center stem and chop.
Place the chopped cauliflower in a food processor and process to a rice-like consistency. If you don't have a food processor, you can use a powerful blender (although be careful not to over-mix the cauliflower) or a grater (if you're using a grater you can chop the cauliflower into 4 large pieces), using the part that it has medium-sized holes (this is the side used for grating cheese).
You could eat the cauliflower rice raw and use it to make salads or other raw recipes , but I like it more cooked and it's also more digestible.
You can cook the rice as is in a pan, but I like it better to add some simple ingredients for more flavor like oil, salt and pepper.
Simply pour a little oil into a pan and when hot add the cauliflower rice, salt and pepper. pepper, stir and cook over medium-high heat for about 5-10 minutes or until cooked through, stirring occasionally. I usually keep it until it starts to brown. The oil can be replaced with water or vegetable broth.
Serve immediately or store in the fridge in an airtight container for about 3-5 days or in the freezer for 1-2 months. Cooked cauliflower rice can be used to prepare any rice dish such as cauliflower fried rice, < a href="https://danzadefogones.com/vegan-cauliflower-fried-rice/">vegan cauliflower fried rice or cauliflower rice risotto.
Notes
The ideal is to discard the leaves and I also like to discard the central part of the cauliflower, but it is not necessary, if you want you can also use the central grating, you will simply have need to process it further as it is somewhat tougher.
You can add any spices and herbs you like for added flavor.
Some recipes cover the cauliflower rice while it is cooking to to be steamed, but I like more how it is sautéed and uncovered. It is a matter of taste. The good thing about covering cauliflower rice is that it cooks a little faster.
For a looser, less mushy rice, you'll want to use a large skillet and your cauliflower will have as little of water possible (I like to dry it a little with a cloth after washing to remove excess water).
Cauliflower rice can also be stored in the fridge or freezer without cooking for the same time more or less.