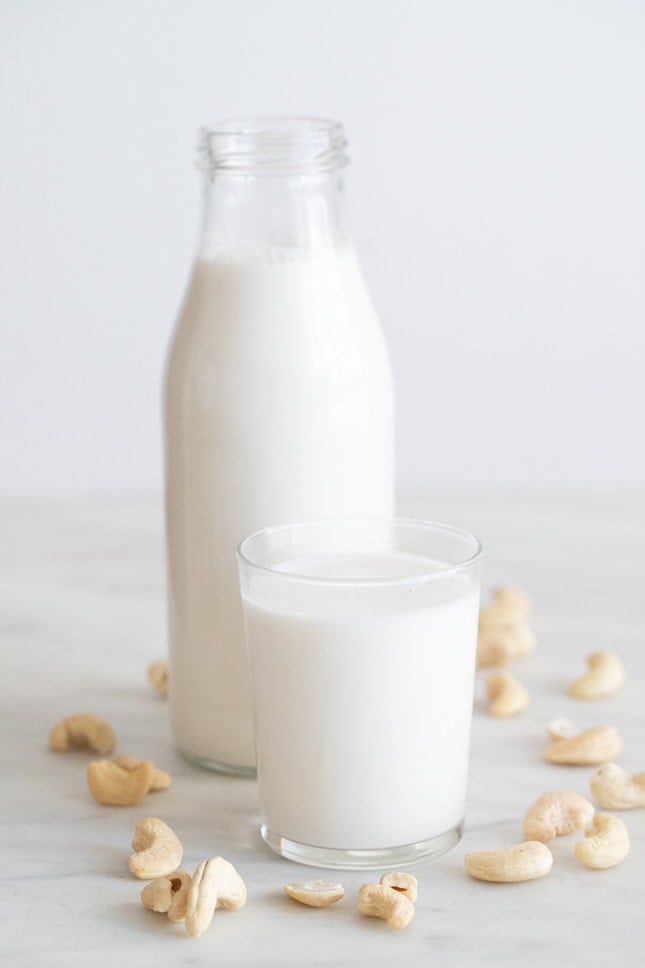 This cashew milk is delicious and doesn't need to be sweetened. You can use it to cook sweet or savory dishes and it is very creamy. In addition, it is very healthy because it only has raw cashews and water.
1

taza de anacardos crudos y sin sal (140 g)

3

–

4

tazas de agua (750 ml-1 l), yo usé 4 tazas (1 l)
Instructions
Soak cashews overnight. You can also soak them in hot water for 30 minutes, but the texture is finer if you soak them overnight.

Strain the cashews, wash them well and put them in the blender together with the 3-4 cups of water (750 ml-1 l) and beat until that they are well integrated.

If you The mixer is very powerful and you don't mind if the milk is a little thicker, you can take it as is, but if not, you can strain it with the help of a bag for plant-based milk, a fine mesh strainer or a piece of cloth.

Store leftovers in an airtight container in the fridge for about 3 -4 days.
Notes
Ideally, the cashews should be raw and unsalted, but if you can't find them you can use them roasted. What I do recommend is that they do not contain salt and that they are not fried.
You could substitute the cashews for any other nut and make a different vegetable milk.
When you make the milk, first use 3 cups of water (750 ml), whisk and add more depending on the texture you are looking for.
You can also flavor the milk by adding other ingredients such as vanilla extract, cocoa powder or some sweetener (dates, sugar, maple syrup, etc.).

The nutritional information has been calculated by straining the cashew milk. If you don't strain it, it will have more calories.