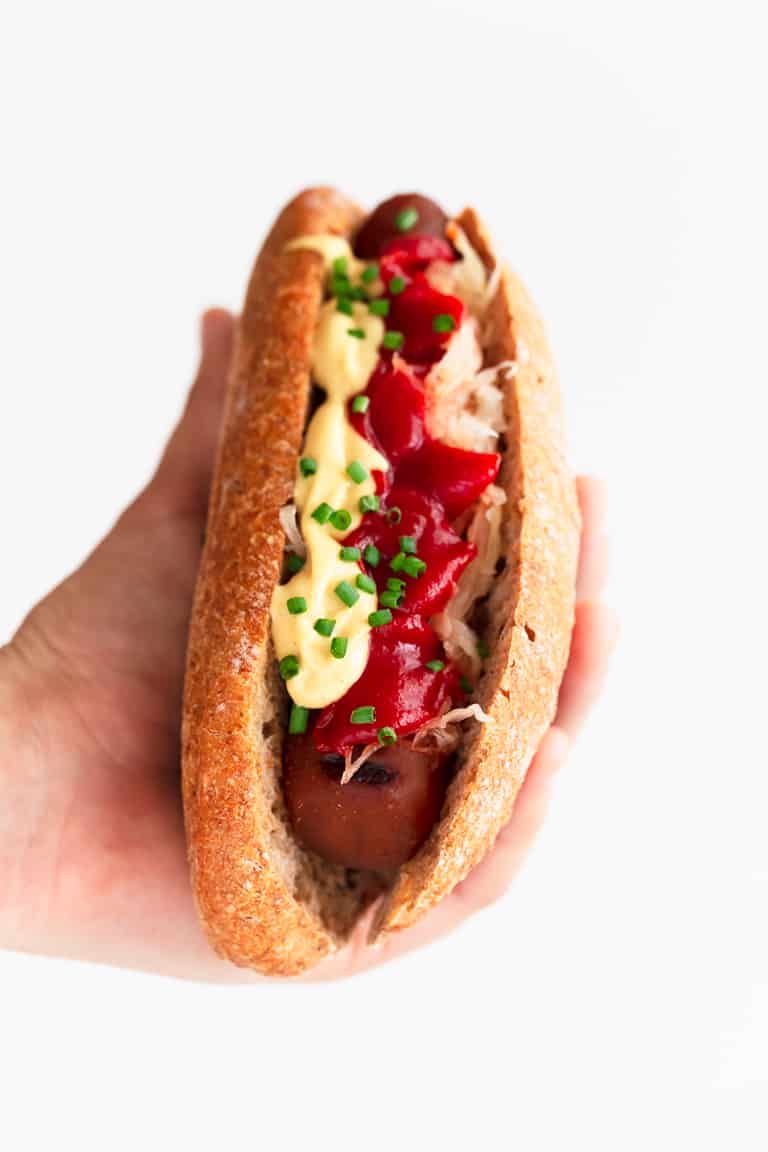 Summer is here and barbecues can be quite a challenge if you don't eat meat, so we are going to share some recipes that can be very useful, such as portobello steaks that we posted last week.
4

zanahorias grandes

1/2

taza de tamari o salsa de soja (

125

ml)

1/2

taza de vinagre de manzana (

125

ml)

1/2

taza de agua (

125

ml)

2

cucharadas de sirope de arce o agave

2

cucharaditas de pimentón dulce

2

cucharaditas de ajo en polvo

1/2

cucharadita de pimienta negra molida

4

panecillos con o sin gluten, nosotros usamos panecillos de trigo integral
Instructions
Peel and cook carrots over medium heat -high until tender. The time can vary, it took us about 30 minutes, but to know when they are ready you just have to prick them with a fork. When they are cooked, strain them and reserve.
Mix all the marinade ingredients in a bowl (tamari, vinegar, water, syrup, paprika, garlic powder and pepper), stir until well integrated. Add the carrots (they should be completely covered by the marinade), cover (we use a container with a lid), and refrigerate for about 24 hours.
The next day, strain the carrots and cook them on a grill, grill or skillet with a little of extra virgin olive oil (optional) for about 5 to 10 minutes on each side or until golden brown. You can use the marinade to marinate more carrots or add it to any dish you like because it is very tasty. We usually add a couple of tablespoons to the vegetables when we are cooking them on the grill to give them more flavor.
To assemble the puppy you just have to put the carrot in the bread (you can use dog bread, but since we couldn't find any that were healthy, we used wholemeal bread) and serve with a little ketchup, mustard, sauerkraut and chives to taste, although you can add whatever you like.
You can store the cooked carrots in an airtight container in the fridge for about 2-3 days , although the ideal is to eat them freshly made.
Notes
If you're going to a barbecue or eating the hot dogs away from home, I would take the marinated carrots in an airtight container and cook them right away. li>
You can use any type of vinegar you prefer and also any sweetener.
Add your favorite spices and herbs to the marinade.
Nutritional information is not exact, as Marinate ingredients not included because almost all of them are discarded.