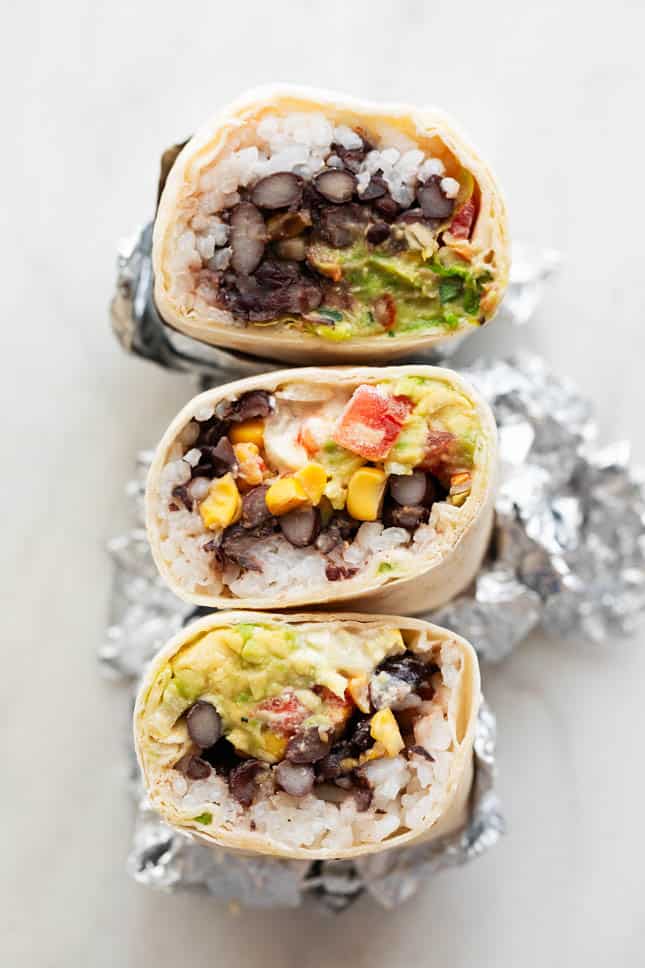 Burritos are among my favorite dishes, I prepare them almost every week because, in addition to being delicious, they are very practical as a recipe to use.
1

cucharada de aceite de oliva virgen extra, opcional

1

y 1/2 tazas de alubias negras (

250 g

), cocinadas o de bote

1

cucharadita de comino molido

1

cucharadita de orégano seco

1/4

cucharadita de ajo en polvo

1/4

cucharadita de sal, ver notas

1/8

cucharadita de pimienta negra molida
Una pizca de cayena molida, opcional

4

–

6

tortillas de trigo grandes, ver notas

1

y 1/2 tazas de arroz cocinado (

300 g

)

1/2

taza de maíz (

70 g

), cocinado o de bote

1/2

taza de lechuga (

25 g

), troceada

1

tomate mediano, troceado

1

–

2

cucharadas de cilantro, troceado

1

aguacate, machacado con un tenedor
Crema agria vegana (la mitad de la receta), opcional
Instructions
Heat the oil in a pan and add beans along with spices (cumin, oregano, garlic powder, salt, pepper and cayenne), stir and cook over medium-high heat for 3-5 minutes or until hot, stirring occasionally. Booking. If you don't want to use oil, you can use water or vegetable broth .
Place a tortilla on a flat surface and add some rice, beans, corn, lettuce, tomato, cilantro, avocado and sour cream to the taste. Depending on how big your pancakes are, you will have to add more or less. Be careful not to overfill them or you won't be able to close your burritos. Close the burrito (see the step-by-step photos) and repeat the process with the rest of the tortillas.
To heat the burritos, it is very convenient to wrap them in aluminum foil and then cook them on both sides in a skillet over medium-high heat, although you can also use the oven or a grill. I cook them for a couple of minutes on each side to warm them up. Aluminum foil isn't necessary, but it helps keep the burritos from falling apart.
You can eat the burritos fresh or store them in the fridge without cooking for about 7 days or in the freezer also without cooking for weeks.
Notes
If you want to make a gluten-free version you can use corn tortillas, although they are usually smaller, so you will probably need more.
You can use any other type of beans or even other legumes.
The amount of salt can vary. If you are using canned beans or if you have cooked the beans with salt you may not need to add anything or you may want to add less. I cook them without salt in my Instant Pot

, although you can prepare them in any pressure cooker, in a normal pot or buy them already prepared.

To reduce the amount of sodium, omit the salt and/or wash the beans and corn well if they are from a can.
The cooking time does not include the cooking of the rice, the beans, or the time it takes to prepare the vegan sour cream.
Nutrition information is based on 1 tablespoon of cilantro and does not include sour cream.