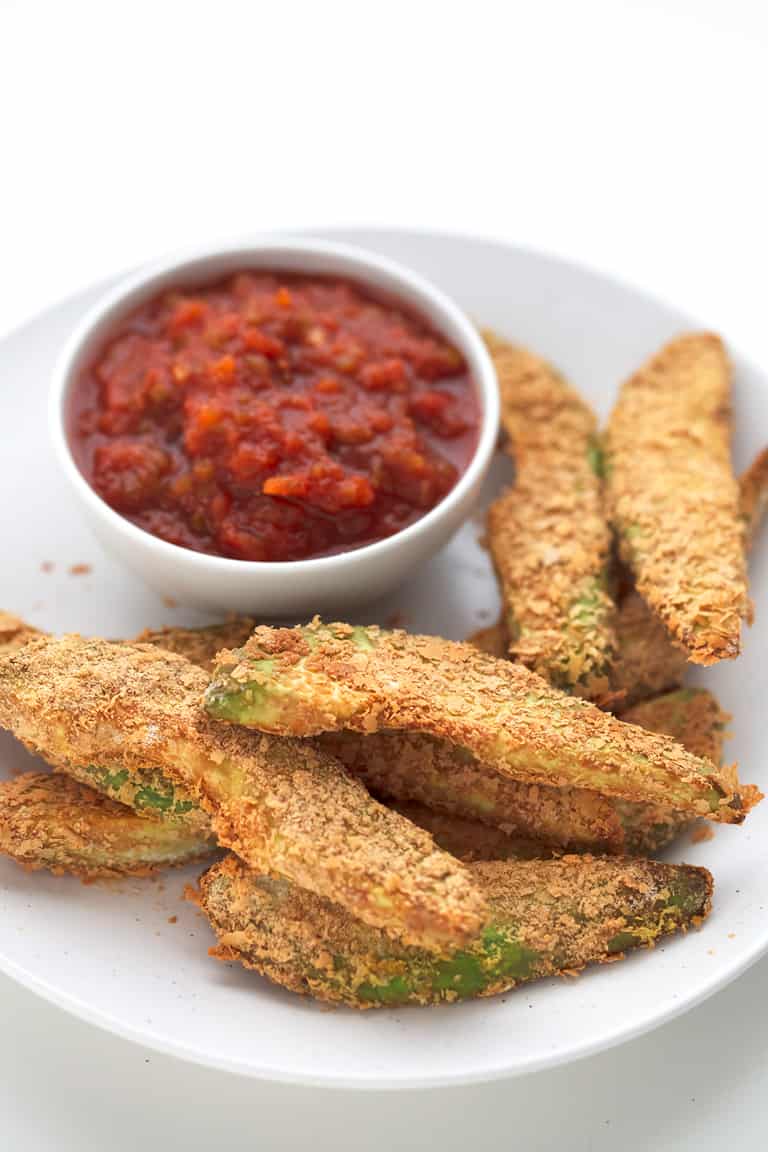 Avocado is a passion fruit and one of our favorite healthy fats. We use it to enrich salads, burritos, toast or any savory dish because it is difficult for a recipe not to be good with avocado.
1

aguacate que no esté muy maduro

2

cucharadas de harina, nosotros usamos de arroz integral

1/2

cucharadita de ajo en polvo

1/4

cucharadita de sal
Una pizca de pimienta negra molida

2

cucharadas de leche vegetal, nosotros usamos leche de soja

1/3

taza de levadura nutricional o levadura de cerveza (

20 g

)
Salsa mexicana (opcional)
Instructions
Preheat the oven to 180ºC or 350ºF.
Put the flour, garlic powder, salt and pepper in a deep plate and stir until well combined. Pour milk and nutritional or brewer's yeast separately into two other bowls.
Cut avocado in half, discard pit, peel and cut into strips (We made 6 strips of each half.)
Roll the avocado strips first in the flour, then in the milk, and finally in the nutritional or brewer's yeast .
Place the avocado sticks on a baking sheet lined with parchment paper and bake for about 25 minutes or until golden brown.
Serve with your favorite sauce. We love them with mexican sauce, but you can also use mayonnaise, alioli, ketchup, sauce yogurt or ranch dressing.

< li id="instruction-step-7">Avocado sticks are best fresh, but you can store them in the fridge in an airtight container for 2-3 days.
Notes
Nutritional or brewer's yeast has a bitter taste when baked, I like it, but if you don't, you can use breadcrumbs (with or without gluten) or panko.
You can remove the garlic powder and pepper or add more spices to the flour.
Add more flour, milk, or nutritional or brewer's yeast if needed.< /li>